Keningau to hold gong beating contest in conjunction with diocesan silver jubilee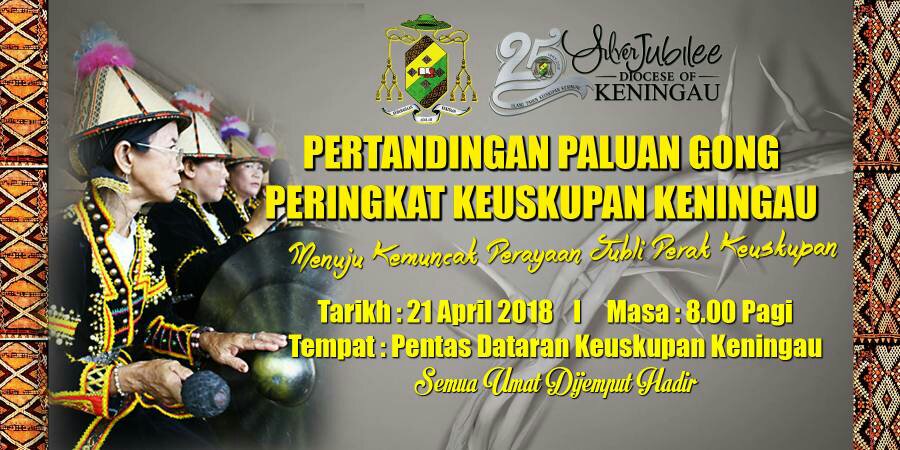 PENAMPANG  – In conjunction with its diocesan silver jubilee in May,  Keningau Diocese will hold a diocesan-level gong beating contest on 21 Apr 2018 at the Keningau Diocesan Square from 8 am to 4 pm.
On the same day, the Jubilee Exhibition will be opened at 8 am at the Diocesan Pastoral Centre (Pusat Pastoral Keuskupan or PPK).  The exhibition will close on May 5 at 5 pm.
The gongs are Sabah's most iconic indiophones that are found throughout Sabah, particularly among the Kadazandusun and Murut ethnics. It is considered the backbone of the traditional musical instruments found in Sabah. The gong is made of either brass or bronze. It is usually thick with a broad rim and produces a distinct muffled sound of a deep tone. In the olden days, it was originally traded in from Brunei.
There are many different rhythms and beats in which the gongs are being played according to the occasion, ritual or festivity. The gongs are created in many different sizes in order to produce different sounds.
The sopogandangan beat, which originates from the interior division of Sabah (played by the Dusun community of Tambunan), is commonly played to accompany the magarang ritual.
The Magarang ritual is usually held to commemorate the harvest festival and weddings, although traditionally, it was associated with headhunting.
Another popular gong beat is the sompogogungan which accompanies the sumazau dance. This beat is commonly played during festivities and weddings by the Kadazan community of Penampang. During funerals, the Kadazandusun play another beat called the dunsai, which decidedly has a lower-toned, less cheery sound.
Apart from being principal musical instruments, the gongs hold other cultural significance such as being a symbol of wealth for a family. In some ethnic Sabahan cultures, a set of gongs is sometimes demanded as a berian (dowry) in marriage. Therefore, before getting the woman of his dreams, a man first would have a handsome set of gongs to offer her family.
While the art of gong-making is slowly petering out in some parts of Sabah, in Kampung Sumangkap, Kudat, the gong-making industry is still going strong. – kkdiocese.net/amazingborneo.com