Bundu Tuhan Retreat Centre is situated at the foot of Mount Kinabalu, 1200 metres above sea level and 85 km from Kota Kinabalu City.  The cool and peaceful atmosphere of Bundu Tuhan ("Valley of God") makes the retreat centre an ideal place for retreats and recollections.  The Bundu Tuhan Catholic Mission started in 1955 under the Mill Hill Missionaries.  Aside from the retreat centre, there is also a school (Don Bosco Primary School), an orphanage (Don Bosco Orphanage), a church (St Pius X), a convent (Mount La Verna Convent), and a chapel (attached to the Priest's House).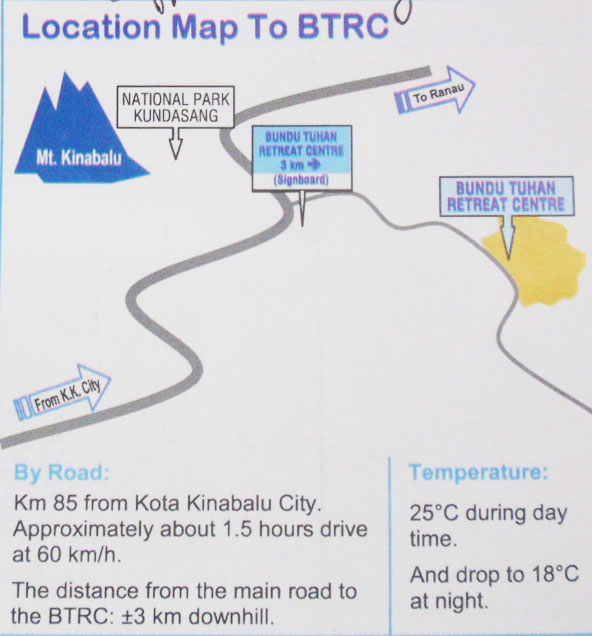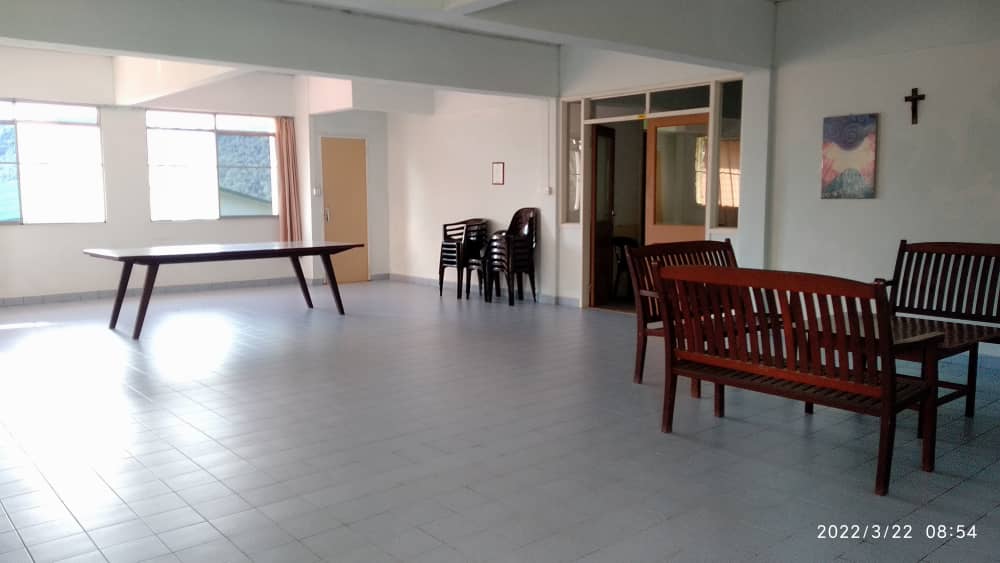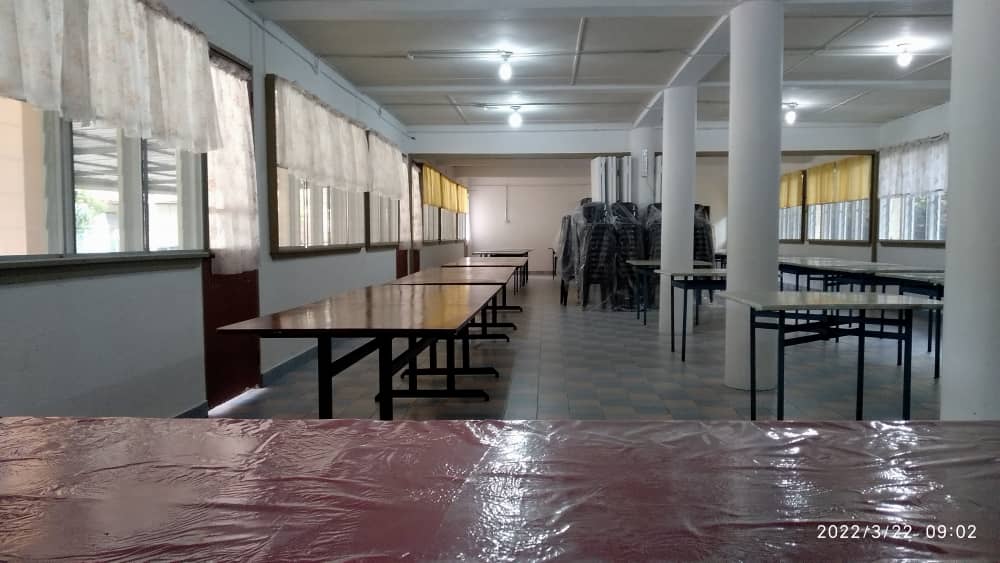 Kitchen & Catering Service

Option A – Catering Service RM20.00/head
Standard Menu
Breakfast: Fried rice/Mee/Meehoon, boiled egg/sausage, coffee/tea/milo
Coffee/Tea Breaks: Coffee/Tea/Milo, biscuits
Lunch & Dinner: White rice, 1 meat & 2 types of vegetables
Please note:
1. If your group wants a different menu, you can arrange with the Booking Office at extra cost when you do your booking.
2. Please get your own team members to serve/dish out the cooked food to your participants. This is to ensure that everyone gets a fair share amount of food. After that first serving, they may help themselves with a second or third helping.
Option B – Self-Catering
1. Kitchen facilities available for self-cooking RM1.00/head
2. Kitchen helper service available if you do your own cooking RM30.00/helper
3. Four units are available for private family/group cooking RM20.00/unit/day
Reservation
Please note the following in making your reservation:
1. BTRC can accommodate a maximum capacity of 230 people.
2. Priority will be given for Catholic retreat purposes and archdiocesan events.
3. Reservation can be made three (3) months in advance and confirmation must be made one month before the actual day of stay.
4. A non-refundable deposit of twenty (20) percent of the total cost of the required accommodation shall be paid upon confirmation.
5. Please indicate in your reservation whether you require the following:
a) kitchenette(s)
b) catering service
c) access to conference hall/meeting room(s)
d) microphones & mini PA systems
BTRC Rules
1. No cooking allowed in the rooms at any time.
2. Keep voice/noise down in consideration of other residents after 11:00 pm.
3. Ensure water tap, water heater and lights are off before leaving the room.
4. Inform/report to the Reception Office of any breakages/malfunctioning.
5. Keep the retreat centre clean and tidy at all times.
6. Do not stick or paste "programmes" or notices on the walls.
7. Do not pick or pluck flowers/plants.
8. Keys: Upon checking out, return your room key to the Reception Office.
9. Pillowcases/bedsheets: Remove your pillowcase, bedsheet, bedcover and put them in the basket provided at the Reception Office before you leave.
10. In case of emergency: Contact the BTRC resident caretaker whose contact number is shown on the notice board at the reception counter.
For reservation and more details, please contact:

Catholic Archdiocesan Centre (Elsie Mokujin)
Jalan Sang Kancil 3, Karamunsing
88300 Kota Kinabalu Sabah
Tel: +6088-203300 / 276006 / 211722
Fax: +6088-203292

Office Hours
Mon-Fri 8:30 am – 12:30 pm; 2:00 pm – 5:00 pm
Sat 8:30 am – 11:30 am