Tawau family life ministry attends Lenten recollection on God's love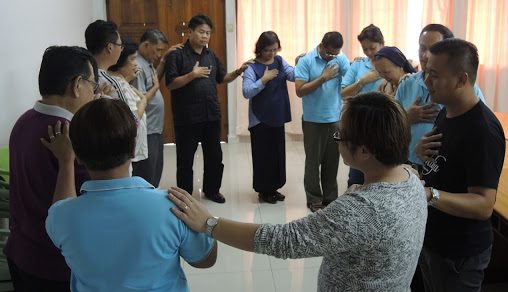 TAWAU – Seventeen members of the Holy Trinity Family Life Ministry here attended a half-day Lenten recollection on God's love on 24 Feb 2018.
The event began with a Holy Hour before the Blessed Sacrament guided by Franciscan Sister Julita Joseph who based her reflection on Matthew 5:43-48 – love, forgiveness and acceptance.
"Lenten season is a special opportunity for you and me to reflect on how I, personally, understood God's love in my life and to return to God. A positive retrospection can humbly bring us back to Him to ask for forgiveness and mercy. This time of refreshing is important to be strengthened and renewed to continue serving as lay people, parents, friends, as a spouse and as children of God" she said.
In the chapel, the participants spent their time with the Lord in silence whilst offering their personal intentions to God. After the Adoration, all participants proceeded to the Conference room for the next session.
Mario Domingo, the Family Life Chairman, expressed his gratefulness to God for His unceasing guidance and grace to this ministry, and thanked the members for their services.
Julita Kantod then gave a brief slide presentation on the work done by the ministry.
This was followed by Sr Julita's talk on the power of prayer that leads one to become a witness and to the maturity of faith.
Time was also given for personal testimony by the participants.
The "Our Father" prayer concluded the recollection, followed by lunch. – Julita Kantod