Local farmers protest against EU palm oil ban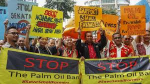 KUALA LUMPUR – Malaysian farmers are protesting against the ban on the use of palm oil due to be voted on in the European Parliament on 17 Jan 2018. The say the provision constitutes a threat to the livelihood of millions of people. On the eve of the consultation, about 1,400 farmers gathered for a demonstration in the centre of the capital and headed to the diplomatic offices of the European bloc, to deliver a petition.
Brussels intends to ban the use of the product in biofuels by 2021, as its cultivation would have a devastating impact on the environment of rural populations. In recent decades, vast areas of rainforest have been demolished to make way for palm plantations.
Important multinational companies manage plantations, but protesters in Malaysia, the world's second largest producer of raw materials, say that a ban will devastate the economy of rural communities. According to the Malaysian Palm Oil Council, more than 650,000 small farmers and more than 3.2 million Malaysians depend on the palm oil industry.
"The policies that the EU is proposing to introduce will damage the rural communities of Malaysia and reduce household incomes," said Douglas Uggah Embas, deputy chief minister of Sarawak where many small landowners live. – AsiaNews / Agencies