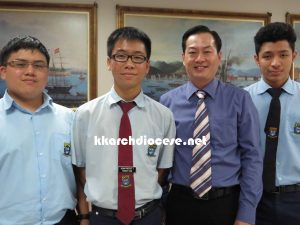 KOTA KINABALU – Three IGCSE achievers did their alma mater proud.
Maktab Nasional is one of the few schools in Sabah that offers the Cambridge IGCSE (O-Level equivalent) examination as an enrichment programme besides the national curriculum (SPM).
Out of three students who took the exam in April/May this year at the British Council, Vincent Yong (17) scored 5As.  The others, Robert Tan and Muhammad Al-Habib Yeo also managed to bag modest results.
This is the second batch of students from Maktab Nasional to attempt the Cambridge IGCSE.  The first batch consisting of 4 students took the exam in 2013.