Three IGCSE achievers make Maktab Nasional proud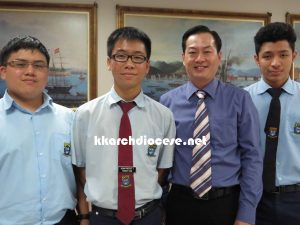 KOTA KINABALU – Three IGCSE achievers did their alma mater proud.
Maktab Nasional is one of the few schools in Sabah that offers the Cambridge IGCSE (O-Level equivalent) examination as an enrichment programme besides the national curriculum (SPM).
Out of three students who took the exam in April/May this year at the British Council, Vincent Yong (17) scored 5As.  The others, Robert Tan and Muhammad Al-Habib Yeo also managed to bag modest results.
This is the second batch of students from Maktab Nasional to attempt the Cambridge IGCSE.  The first batch consisting of 4 students took the exam in 2013.
Cambridge IGCSE is the world's most popular international qualification for 14 to 16 year olds. It is recognized by leading universities and employers worldwide, and is an international passport to progression and success. Developed over 25 years ago, it is tried, tested and trusted by schools worldwide.1
The trio, when interviewed by CS, were feeling upbeat about the IGCSE.  They have no hesitation in recommending to any students to consider the IGCSE for themselves for the advantages to be gained.
Having no qualms that they had made the right decision to take the exam of such international recognition, they also knew that they had more options when it comes to choosing a career or higher learning institute in the future.
Another important deciding factor in helping them to map their future was the confidence they had in their school and teachers, who could provide them with excellent resources and vital training.
Having gone through it as learners, they would say that Cambridge IGCSE helps improve their performance by developing skills in creative thinking, enquiry and problem solving. It is the perfect springboard to advanced study.2
No doubt the cost factor might deter many future takers, (the exam fee for 2014 amounted to RM5080 for 5 subjects), but the benefits far outweigh the expenses.
Alexander Funk, principal of Maktab Nasional, expressed his satisfaction with the performance of his students, though he would have been much happier had more students attempted it.  But he is confident that as students and parents recognize the value of the IGCSE for what it is in terms of investment for the future, they would not hesitate to encourage and support their children in taking up this academic high standards offered by IGCSE.
Meanwhile Funk confirmed that the introduction of an English program to be integrated into the daily lessons based on the Cambridge English for Life syllabus for Form 1 to Form 3 would roll on for academic year 2015.
As for the commitment to students and parents, the school would continue to provide fully qualified teaching staff with the continuation of the Cambridge In Diploma for Teachers and Trainers (CIDTT), a training course program which was introduced in 2013.  The CIDTT has since successfully trained 4 teachers for Maktab Nasional and 12 teachers for the Datuk Simon Fung Primary School, who are now Cambridge qualified in education apart from having obtained a basic degree earlier in other disciplines.3
Given the opportunity to have the last word, Vincent asserted that his school, as a Catholic school, plays a big part in contributing to his success.  He feels he is a calmer person who can deal with stresses because of the knowledge and practices he receives from the religious classes and the all-round moral support from his teachers. – CS and other sources