Limbahau PPC chairman requests for residential pastor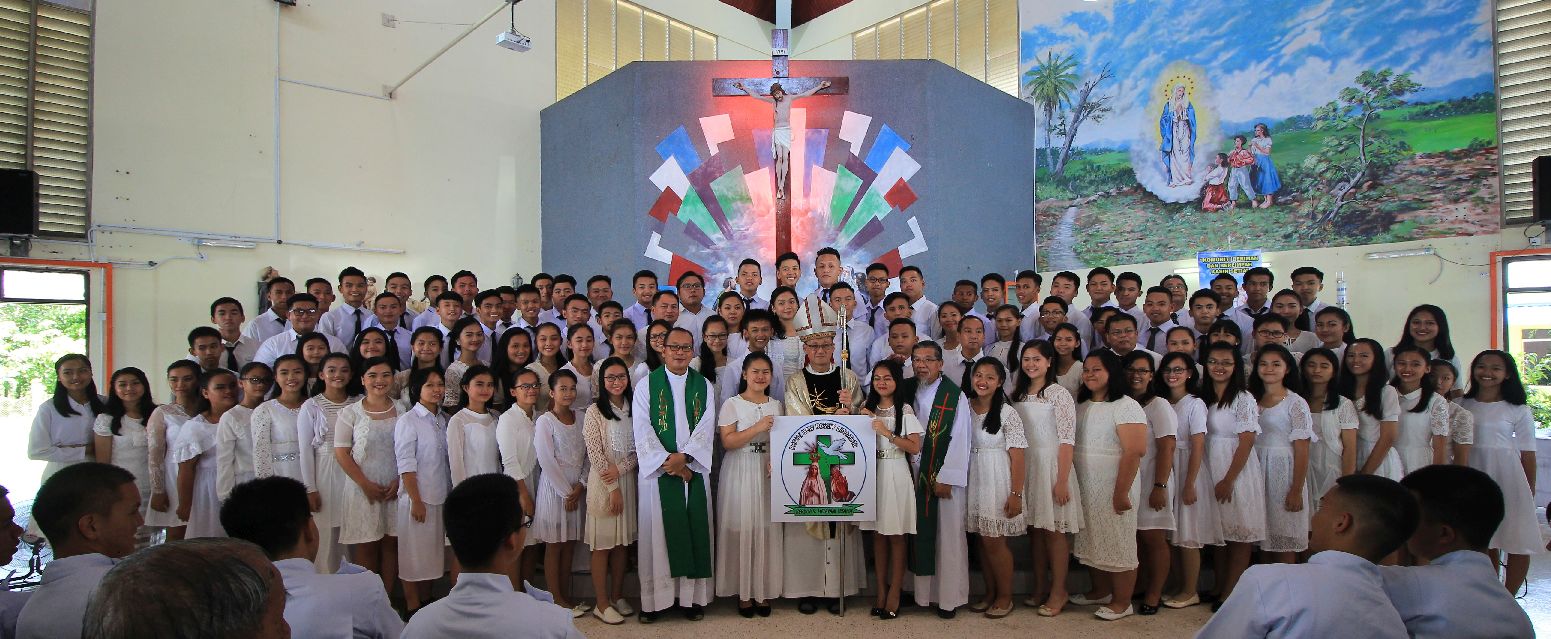 LIMBAHAU – Limbahau Parish Pastoral Council (PPC) chairman requested for a residential pastor during the annual pastoral visit by the archbishop on 8 Oct 2017 to Holy Rosary Parish here.
In his speech after the Mass wherein 95 boys and girls were confirmed by Archbishop John Wong, Sylvester Joseph conveyed the longing of the parishioners for a residential pastor.  He also urged the parishioners to pray for this request to be granted.
He said that the proceeds from the day's bazaar would be for the Catholic Centre building project fund as the parish has pledged to contribute RM220,000.00 towards it.  Other fundraisers have been initiated as well.
Joseph then touched on the parish's two-year family programme which he hoped would be fruitful.
Earlier at 8 am, Abp Wong had a breakfast meeting with the two pastors, Father Thomas Yip and Father Rayner Bisius, and PPC members who presented reports under their various portfolios, present and future programmes such as KKG-ku (Keluarga [family], KKD [BEC], Gereja [church]), Belia Masuk Kampung (youth enter village), and altar servers camp, in response to the Archdiocesan Pastoral Thrust.
In his turn, Abp Wong encouraged the parishioners to deepen their faith, the confirmands to be active church members, and married couples to have more children despite various challenges.
He pointed out that small families mean reduction in the overall Catholic population and challenged the parishioners to have trust in God to provide for their needs.
After the speeches, the prelate launched the new parish logo.
After Mass, all went in procession to the Fr A Amandus Hall, accompanied by traditional toggungak music, for lunch, cake-cutting commemorating Abp Wong's 7th episcopal anniversary, choral presentations, prize presentations for sports and recreational activities, and lucky draws.
The prelate, accompanied by parish leaders, toured all the stalls selling food, drinks, local produce, meeting the people where they were.
Later, the PPC presented Abp Wong with a mock cheque of RM40,000 as proceeds from the bazaar.
Representing the state government, Datuk Johnny Mositun presented several units of PA systems to Limbahau and  Papar parishes, and to some outstation chapels.
The evening before, Oct 7, Abp Wong celebrated Sunset Mass at St Sabina Titimbongon Papar, the first time the chapel was visited by a bishop. – William Charles Mindus