Sandakan youths visit Cheshire Home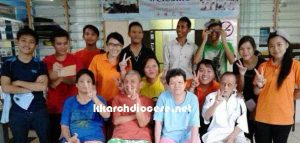 SANDAKAN – Twelve catholic youths from St Mark Mile 12 and St Peter Sg Manila visit Cheshire Home Sandakan Oct 4 for their charity outreach, while at the same time making a study tour of the institution.
The charity visit was a  response to the challenge to reach out to the less fortunate, given in the Unite Camp held at St Mary's Cathedral last September themed "Blessed are the merciful, for they shall receive mercy" (Matt 5:7).
On arrival the youths were given a warm welcome by the residents of Cheshire Home and Cecilia Kimsin, a staff at the centre. Kimsin started the day with a background introduction of Cheshire Home.
The sole purpose of Cheshire Home is to care for the disabled. The first Sabah Cheshire Home is now 31 years old and was established in Kota Kinabalu on Jan 29, 1983, while Sandakan Cheshire Home was established on Apr 8, 2000. There are currently 19 physically disabled persons residing in Sandakan Cheshire Home together with a small number who are non-residential and come only for day-care.
During the visit at the home, the youths carried out domestic tasks such as lawn mowing, sweeping, cleaning the washroom and kitchen.
The residents of the home were very glad to be visited by the youths. One of them expressed his gratitude especially for the help they received around the home.
Through the activities, the youths were amazed to experience in such a tangible manner God's love for them, as well as a closer bonding with one another.
"In the same way, let your light shine before others, that they may see your good deeds and glorify your Father in heaven" (Matt 5:16).