PUKAT-10 focuses on Christ-centred family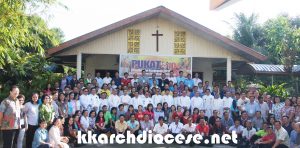 KENINGAU (Herald) – PUKAT-10 (10th edition of Perhimpunan Umat Katolik Keuskupan Keningau) was held at Tatal Retreat Centre Sep 25-27 with the theme Family centred on Christ,  a Culture of Worshipping God, Deepening of Faith and Social Responsibility', which was the basis for their inputs, sharing and pastoral planning for the Keningau Diocese.
United with and embracing the spirit of Pope Francis and the universal Church, the focus of PUKAT-10 was aligned on 'the Pastoral Challenges of the Family in the Context of Evangelization', the theme of the Extraordinary General Assembly of the Synod of Bishops which took place Oct 5-19 in Rome.
During the 3-day assembly, priests, religious and representatives from nine parishes and one Mission, pondered on the essence of christian family as domestic church mirrored by the Holy Family of Nazareth (ecclesia domestica) concerning its role as a centre for worshipping God as well as the traditional source of good values in order to bear witness to society at large.
The session on 'Role and Responsibility of the lay faithful in following law and pastoral' also stressed on the need to know themselves as the baptized of God as priests, religious and laity, and were expected to support and cooperate with one another.
Over 200 participants including Bishop Cornelius Piong himself, joined in the group discussion which was divided according to parish.
The group discussions focused on the challenges families are facing today, ways to mitigate, and how to encourage an attitude of honouring God, as well as making social responsibility a way of life in the family.
As the Diocese of Keningau would be celebrating its silver jubilee in three years' time, each parish was encouraged to deliberate on their preparation towards the event.
Archbishop Joseph Marino, nuncio to Malaysia, in acknowledging PUKAT-10, expressed his hope for all participants to live out the vision of Pope Francis and not to defer an ecclesial renewal as laid out in his apostolic letter Evangelii Gaudium (n 27):
"I dream of a 'missionary option', that is, a missionary impulse capable of transforming everything, so that the Church's customs, ways of doing things, times and schedules, language and structures can be suitably channelled for the evangelization of today's world rather than for her self-preservation. The renewal of structures demanded by pastoral conversion can only be understood in this light: as part of an effort to make them more mission-oriented, to make ordinary pastoral activity on every level more inclusive and open, to inspire in pastoral workers a constant desire to go forth and in this way to elicit a positive response from all those whom Jesus summons to friendship with himself."
A workshop followed, in which the participants recognized the importance of being socially responsible in the community so that families would be communal witnesses of Christ's love.
In his homily at the Concluding Mass on the final day, Bishop Cornelius reminded all to "return to the theme of PUKAT-10.  We need to remember that if we do not firstly strengthen the ties of family and with God, then whatever plans we have and whatever strategies we plan, they will all amount to nothing".
In his speech, Bishop Cornelius Piong outlined six major steps (summarized) for the priests, religious and laity for further contemplation and action:
1.    Establish a loving relationship with Jesus
2.    Husbands and wives need to understand the meaning of true marriage and to establish family based on God's will
3.    Jesus is the Source of unity, loyalty and happiness of the family
4.    Possess the spirit of service and leadership of Jesus
5.    Role of Mother Mary in the family
6.    Role of Holy Spirit in the family
In closing the prelate called on KKD leaders to heed Pope Francis' advice, "you will sometimes go before the people, pointing the way and keeping their hope vibrant. At other times, you will simply be in their midst in unassuming and merciful presence.  At yet other times, you will have to walk after them, helping those who lag behind and, above all, allowing the flock to strike out on new paths." (Evangelii Gaudium n.31).