SM St Michael Penampang creates history at 6th EUROINVENT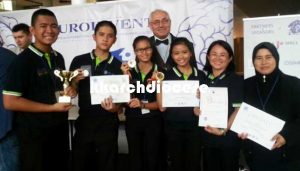 PENAMPANG  – SM St Michael Penampang (SMSM) did Sabah, and indeed the nation, proud with their superb performance at an international competition recently! Two thumbs up for SM St Michael Penampang Innovation Team for winning several world-class awards in "The 6th European Exhibition of Creativity and Innovation (EUROINVENT) 2014" at Iasi, Romania which was held from May 22-24, 2014!
This year, four Form 5 students namely, Chelsie Feeley Bachi, Jovi Jivinsol Moosom, Carlsson Paddy Edwin and Galedine Lind together with their teacher-advisors, Jennifer Asing and Mariatul Hanis Abdullah participated in the 6th EUROINVENT 2014 in which 26 other countries from all over the world also took part .  This year's exhibition offered a total of 15 awards to be won, and the SMSM team managed to bag home four prestigious awards: The Youngest Inventor Award, Gold Medalist for Easy Pouring Set, Silver Medalist for Smart Food Protector and A Special Prize from The Republica of Moldova.
The two winning pieces which the team brought to Iasi, Romania are the Easy Pouring Set and the Smart Food Protector. The Easy Pouring Set which was innovated by Innovation Team won the SME Y-Biz Challenge in 2013. The Smart Food Protector was innovated based on the combination of ideas from Innovation Team, and three additional SMSM students Sascha Ng Bansing, Calvin Noril and Daneilson Luke and two other teacher-advisors Hamzah Bin Hamsan and Cyprian Rian Jokinol.
"It was a real surprise to us when our team's name was called out as winners of all four awards. We did not expect that and the feeling was overwhelming.  We were speechless for a few seconds and couldn't believe what was happening. But, with gratefulness, we recalled our principal's words of wisdom that success is never without challenges and hard work. All great inventions have only been possible because of the courage not only to dream big dreams, but to have an overwhelming desire to see them come to pass. This is the secret of success of those men and women who, against all odds, have become successful in life and in business.
Seeing the prospects of innovation in our country, Marie Yong, principal of SMSM, has been encouraging her students to be more innovative. She believes that opportunities are always there and it all depends on us whether we want to take it or not. She has the fullest confidence in the team and  commended the team and their teachers for the excellent job done. She called them on to continue to be creative and innovative and to share their knowledge and experiences with the younger generation. – Jennifer Asing, SMSM