SYCC installs its third presiding elder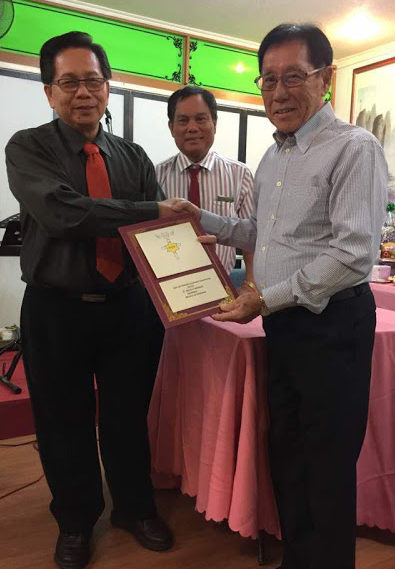 SANDAKAN – 18 August 2018 was a day of special significance for the Star of Yahweh Covenant Community (SYCC) as they celebrated the 34th year of their existence in the parish here.
On this auspicious occasion, the community witnessed the passing on of the baton to its new Presiding Elder in the person of Philip Mosinoh by Michael Lee, who would remain in the eldership to serve the community.  Mosinoh would be SYCC's 3rd presiding elder since its inception.
Mosinoh, who is one of the existing four elders in the body of eldership, has accepted in obedience to God the calling to shepherd the community.
SYCC was established and formed in 1984 by the Emmanuel Covenant Community, Brisbane.  The first Presiding Elder to helm the community was Henry Solibun, with a membership of 30.  Today the community has 70 members.
Of notable Interest, the membership included the late Fr Tobias Chi, and Franciscan Sisters Carmen Cordova and Tina Basil who were single members before answering the call to religious life.
The community members has since grown in maturity as one of the lay ecclesial movements in the parish, strengthening their faith formation during their general community gathering every Friday, at 8.00 pm at the parish hall. Besides, they serve the parish in the church liturgy, outreach to Maktab Rendah Sains MARA (MRSM), Sekolah Seni and Monfort boys monthly fellowship, Single Adult Fellowship, organizing Life in the Spirit Seminars, etc.
A thanksgiving Mass, presided by Bishop Julius Gitom, marked the anniversary celebration, followed by a dinner at a local restaurant.  The invited guests included Bishop Gitom, parish priests Fr David Garaman and Fr Sunny Chung, PPC chairman Pilis Malim, religious sisters, as well as  friends of the community.
During his speech, outgoing presiding elder Michael Lee shared about the lifestyle of SYCC for the past 34 years that has united members to serve the Lord and to love one another.
He underlined "It entails great commitment to the Lord and to one another through the challenges and difficulties that demand daily conversion, sacrifice and the constant work of building relationship with members coming from different walks of life, different background, races, age, profession as well as culture."
"Fellowship and sharing are essential to strengthening the bond as Jesus gathers the community as one body," he added.
Lee encouraged members to recommit to each other as the people of God, which ultimately contributes to effective team work albeit in different ministries.
He reminded that the foundation of community living is built on righteous living and holiness of life, and with the guidance of the Holy Spirit, the community is enabled to help and serve the parish and the Church at large.
Lee ended on a grateful note to the elders and members who have rendered him assistance and support during his term of service.
He then announced the appointment of Philip Mosinoh as the next Presiding Elder of SYCC, and Michael Tivit as a full Elder. Fr Garaman witnessed Mosinoh signing his acceptance, and ventured to bless him by laying of hands. – Susanna Cordova