Second Sook lad ordained priest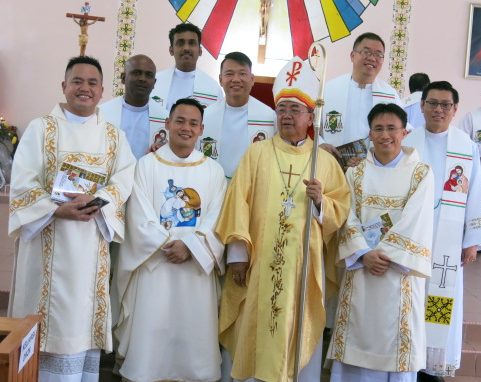 SOOK – Holy Spirit Parish here hosted the priestly ordination ceremony for its second son on 11 Aug 2018. The first ordinand was Father Bonaventure Unting in 2001.
Some 3000 faithful turned up for the ordination ceremony of Deacon David Richard Gasikol, 33, officiated by Bishop Cornelius Piong.
Among the invited guests were his classmates – five priests and two deacons –  from Penang, Kuala Lumpur, Kota Kinabalu and Kuching as well as his mother, siblings, and relatives.
In his address after the Mass, Bp Cornelius urged the neo-ordained to remain obedient after his ordination for he has observed that many priests turn "sombong" or proud after ordination.  One can only be obedient if one has humility of heart.
Born in Sook on 29 June 1985, the neo-ordained entered the aspirancy at the Catholic Archdiocesan Centre Penampang in 2010.  After a year at the Initial Formation House in Kota Kinabalu in 2011, he went on for his philosophical and theological studies at St Peter's College Kuching from 2012 – 2017.
After ordination, the neo-ordained remains posted at the Katedral St Francis Xavier Keningau where he has been assigned since his diaconal ordination early this year.  He is also the spiritual advisor to the Keningau Diocesan Social Communications Commission.
Sook, 148 km from Kota kinabalu,  is a small town and district located in the Interior Division. It serves as a timber and agricultural town as well as a transit town for motorists travelling from Keningau to Tawau via the Keningau-Sook-Sapulut-Kalabakan-Tawau road.