KK Archdiocesan youth aspire to work closely with leaders towards Vision and Mission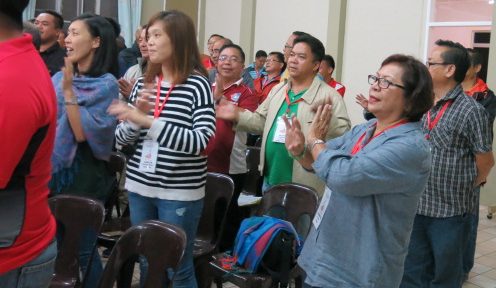 BUNDU TUHAN – The youth of Kota Kinabalu Archdiocese aspire to work closely with other leaders  at parish level as well as at archdiocesan level towards attaining the Vision and Mission.
Almost all parish leaders brought with them their youth leaders to the PAX Assembly at Bundu Tuhan Retreat Centre, 13-16 June 2018.
Serena Wong of Sacred Heart Cathedral youth ministry, said she expects to find her call in this PAX process and hopes to respond accordingly pertaining to the vision and mission of the archdiocese.
When asked how the archdiocese can further help the young people to overcome the three critical concerns – apathy, secularisation and political Islam – she said, "There have to be platforms for youth to be participants in the planning, evaluating and implementing the archdiocese's direction."
"There has to be a leadership formation for the young people, as succession plan of roles and responsibilities," she added.
The cathedral parish has seven youth ministries in all three languages. All youth ministries have respectively reported in the Parish Pre-PAX meetings on what have been done and the needs of the young people according to the youth that they minister to and the needs that arise.
They were involved in programmes such as Adoration, talks, retreats and camps to encounter Christ.
Serena said that a Eucharist project is in the pipeline, which will only take place after the election of the new Parish Pastoral Council.
Harold Ong, of St Simon parish, Likas, said to further help the young people to overcome the three main concerns, the archdiocese must work closely with the youth ministry of the individual parishes, raising new leaders, training speakers and resource persons.
He hoped that the archdiocese can see a clearer picture of the challenges faced by parishes and work together as one family of Christ to come out with concrete solutions to remedy issues.
On the involvement of youth in the PAX process, Harold said, "Leaders of our youth ministry participated in the Pre-PAX Assembly on May 1."
"We also participated in spiritual activities organised by our parish such as Holy Hour and Rosary, outreach to the less fortunate at Cheshire Home in Bukit Harapan, Bible sharing on a weekly basis and a Boys Brigade Company to expose our youths to Catholic Christian values," said Harold.
On the next plan after PAX Assembly, Harold suggested to "organise an interactive session to learn more about political Islam."
He said a sharing session is a good platform  for youths to share the experiences of attending a youth event, which promotes faith formation, such as the Diocesan Youth Festival in Tuaran. – Linda Edward