22 retired teachers honoured at annual archdiocesan teachers day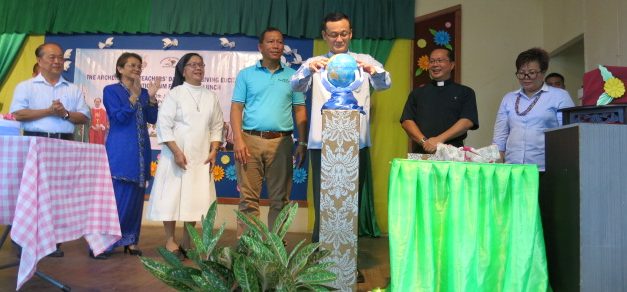 KUDAT – Twenty-two retired teachers were honoured at the Archdiocesan Teachers Day at the De Wit Memorial Hall here on 30 June 2018.
The honourees were from Kota Marudu (9) and Kudat (13).  They received a certificate of appreciation and a bag of local delicacies from Archbishop John Wong after lunch.
Earlier, a Thanksgiving Mass was held at St Peter Church, presided by Abp Wong and concelebrated with Father Jalius Sading, spiritual advisor to the Archdiocesan Education Commission. Deacons Russell Lawrine and Gilbert Marcus assisted at the altar.
The 81 schools – kindergarten, primary, secondary – are grouped under 10 zones in the archdiocese: Inanam, Kota Kinabalu, Kudat & Kota Marudu, Labuan, Likas, Papar, Penampang, Ranau & Kota Belud, Tanjung Aru, and Tuaran – were introduced during the entrance procession.
At the Presentation of Gifts, symbolic gifts pertaining to the teaching profession were brought to the altar by representatives of the different zones.
In his address at the hall, Abp Wong reminded those present to see their teaching profession not as a career but as a mission imbued with Christian and human values such as honesty, fairness, truthfulness, peace, patience, forgiveness, and others.
In this way, the prelate continued, others not of the same faith will be evangelised  – enfleshing the theme: Empowered by the Holy Spirit to be the Witnesses of Christ in the field of education.
After his speech, Abp Wong officiated the opening of the event by placing the globe into the open hands, followed by signing of the commemorative plaque.
This year's event was hosted by St Peter Kudat for the Kudat-Kota Marudu Zone.  Next year's host will be Blessed Sacrament Labuan.
The past host parishes were Likas (2011), Kota Kinabalu (2012), Inanam (2013), Papar (2014), Penampang (2015), Tanjung Aru (2016), and Ranau & Kota Belud (2017).