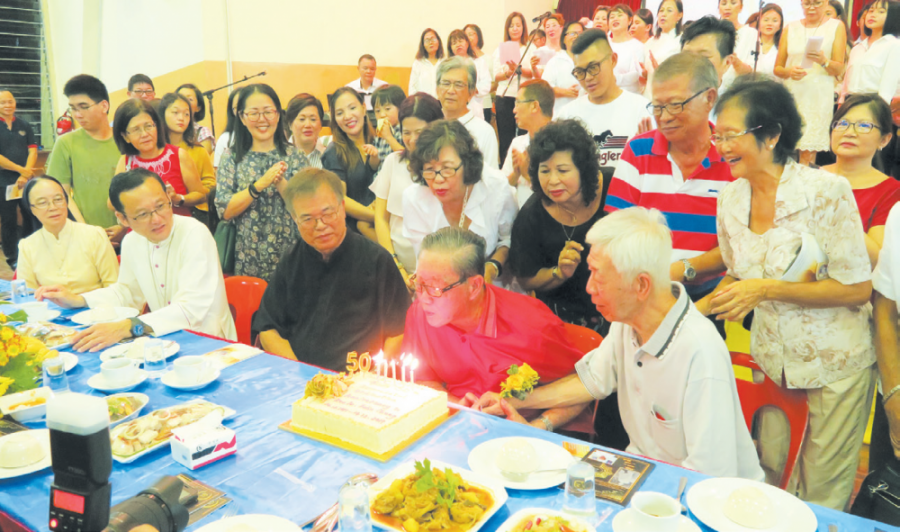 Fr. Felix Chung: 50 years of priesthood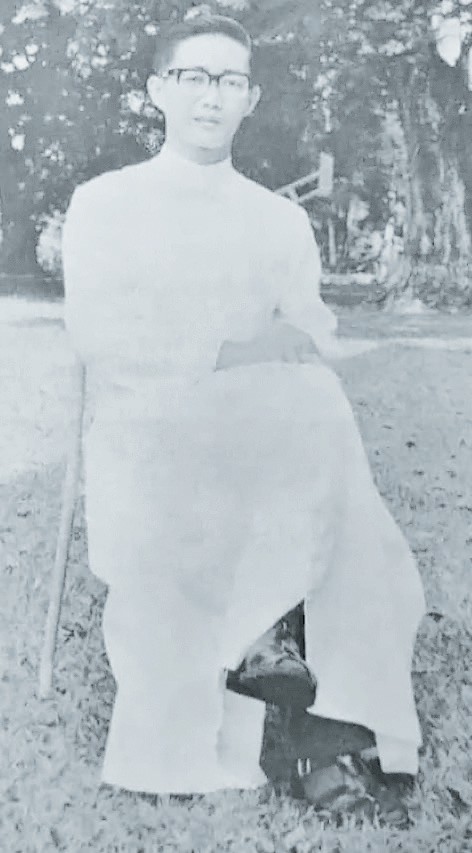 ON December 14 1969, a local young man at the age of 32, Felix Chung, came forward and was ordained as priest by Bishop C. Van Melckebeke; at his hometown parish, Stella Maris Church Tanjung Aru, a historic first ordination in that Church.
At that time, there was only one diocese in the whole of Sabah called the Vicariate of Kota Kinabalu. Fr Felix was first posted at Sacred Heart Parish (now Cathedral), followed by postings in Keningau, Beaufort, Kudat, Penampang, Kota Belud, Inanam, Telipok and then back to Kota Kinabalu.
His last assignment was a rector at St Peter's College in 2006 and then was appointed as Chaplain of the Carmelite Monastery until Dec 2012. All the long years of work took its toll when he suffered a mild stroke while visiting a village in Kota Marudu in 2012 and was cared for about three months.
Now at the age of 82, he is still working hard outreaching widely to the poor in the interior of Kota Belud, Kota Marudu and Pitas. Whenever he and his team visit a kampung, he would bring supplies of food, pre-loved clothings, and some generous donors would give him bags of Rosary to be given out.
Other than that, he is also actively presiding funeral Masses, sometimes wedding Masses and attending sick call at homes.
Year 2019 marks the 50th anniversary of Fr Felix Chung's ordination to the priesthood. He chose to go back to the same Church, Stella Maris, to celebrate his Golden Jubilee, on Dec 14.
Archbishop John Wong presided the Mass and scores of local priests including his contemporaries, Fr Francis Tsen, were at his jubilee to celebrate this important milestone.
Fr Felix shared his reflections about his priestly service which describes his hard-working nature and commitment to his vocation.
What inspired you to become a priest?
"When I was young, I studied in mission school and I always see the European Mill Hill priests teaching. I was walking to school and I saw young boys playing at the river bank. My thought was they should be in school, and my heart told me that "I must become a priest and take these young children to school" – that was the start of my calling."
What sustains you?
"What sustains me in this ministry is no other than faith in Jesus, this is his joy and his dream. We must have faith in Jesus, and to rely on Him all the time." In his entire priestly life, Fr Felix has given his ups and downs, always to Jesus, in order to serve with a heart in peace.
He said, "He will never fail you. Without Him, we have no peace. Whatever difficulties there are, we have Jesus to fill us with inner joy and peace."
He also acknowledged that a priest should be devoted to Mother Mary. His devotion to the Mother of Christ has prompted him always to give out the Rosary to the people in all his outreach programs.
You served with the Mill Hill priests back in the 70s, how was the situation like for the Catholic Church at the time when they were all driven out of Sabah?
"When the Mill Hill priests were arrested and deported out of Sabah, this was a time of persecution, we became orphaned because a lot of the priests at that time were these Europeans.
"At that time, I visited the people in the kampung to defend the faith. They told me to not come out and sing Christmas carols. We went all the same but held it inside the houses.
Fr Felix said despite all the challenges, here he is celebrating 50 years of priesthood, and addressed to the young people, "What are you waiting for when you don't come forward to serve the Lord?"
To the young people and young priests
As a young priest back then, having endured the many hardships in service and the turbulence of the Catholic Church due to deportation of the Mill Hill priests, Fr Felix emphasized on courage and trust in Jesus.
Despite challenges, he said, "I feel so happy as a priest, so the young should have the courage to really trust in Jesus and come forward to become a priest. Persevere, with endurance, then certainly one will make it, it is not difficult.
"The period of becoming a priest takes a long time but never mind, if we have endurance and consistency, God will help us."
To young priests, he said, "work harder and have interest to study the most important topic – the Bible, and I would like to encourage them to study further and take up courses."
Always be ready to serve
As a priest, Fr Felix said, "I must always be ready to serve the people in their spiritual needs, in their difficulties, especially… normally, the sick call, blessing, funeral. We must do it because it is our duty, as a priest, that's what we are called for. Only the priest can administer the sacraments." – Linda Edward (Source: Stella Maris SOCCOM)