Episcopal Justice & Peace Commission renamed Creation Justice Commission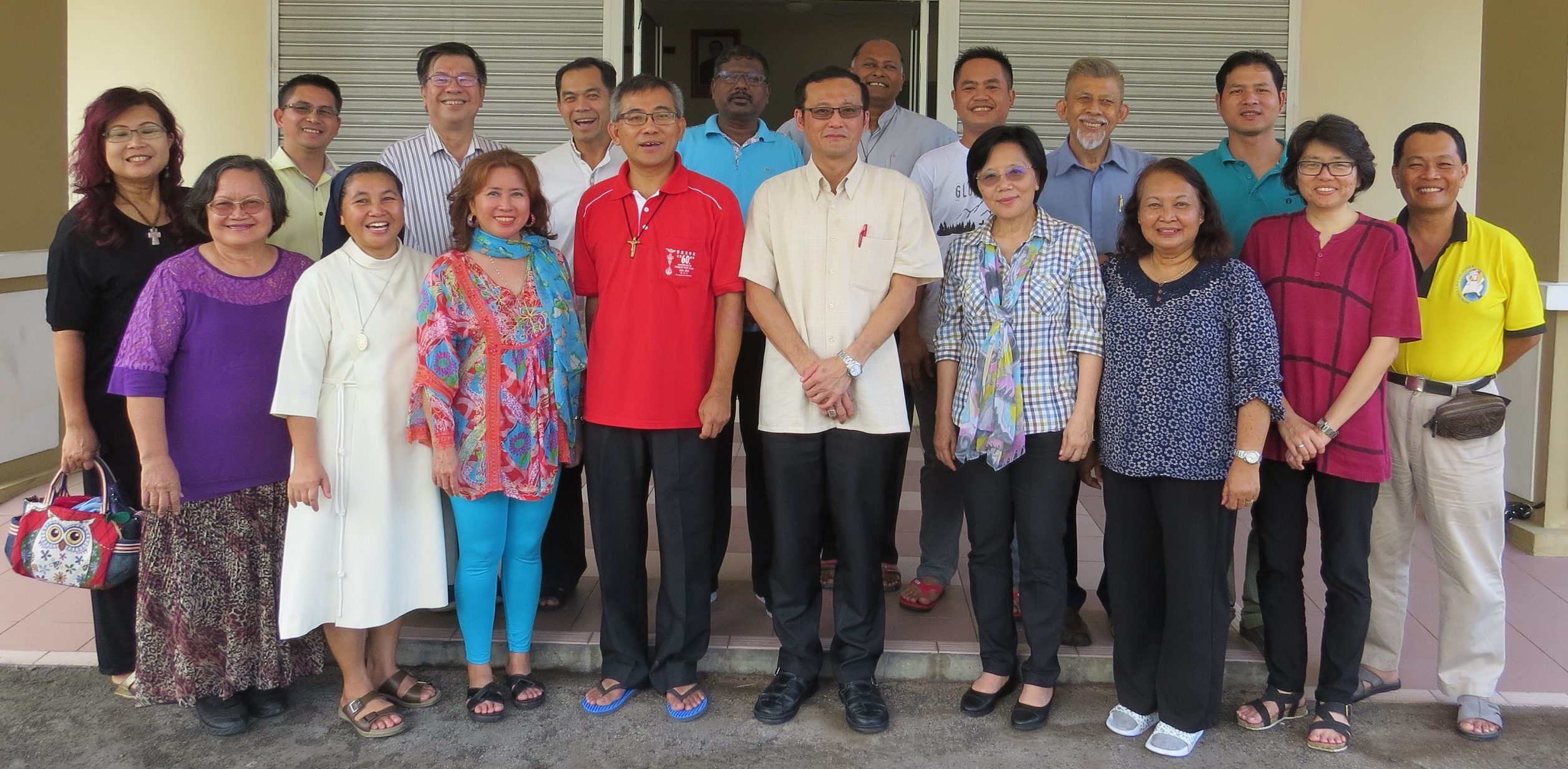 PENAMPANG  – The Episcopal Commission for Creation Justice (CJC), formerly called the Commission of Justice and Peace, under the auspices of the Catholic Bishops' Conference for Malaysia, Singapore and Brunei gathers at least once a year, and comprises  representatives from the arch/dioceses of Singapore, Kuala Lumpur, Penang, Johor-Melaka, Kuching, Sibu, Miri, Kota Kinabalu, Keningau, Sandakan and Brunei Vicariate.
KK Archdiocese hosted the gathering on 23-27 Apr 2018 at Vianney Home Dontozidon.
Present at the gathering were Bishop Joseph Hii of Sibu Diocese (president); Fatherr Bernard Arputhasamy of KL Archdiocese (chairman), and representatives from the arch/dioceses of Penang, Johor-Melaka, Kuching, Sibu, Miri and Kota Kinabalu, with an observer from Singapore.
During the meeting, the CJC representatives prayed, reflected, shared, brainstormed, and planned.  Among the plans for the months ahead are Train the Trainers workshops to develop facilitators to spearhead and drive the process within their respective dioceses.
Creation Justice Commission (CJC) seeks to bring about the social and ecological transformation advocated by Pope Francis in his encyclical letter Laudato Si' (LS).
If we approach nature and the environment without this openness to awe and wonder, if we no longer speak the language of fraternity and beauty in our relationship with the world, our attitude will be that of masters, consumers, ruthless exploiters, unable to set limits on their immediate needs.  By contrast, if we feel intimately united with all that exists, then sobriety and care will well up spontaneously. – Pope Francis in Laudato Si' mi Signore: Encyclical Letter on Care for Our Common Home (2015, no 11)
Laudato Si' has become "the way forward" for the Church and the world at large to be ecologically revolutionised in caring for creation, in protecting  Mother Earth.
Pope Paul VI saw "the urgent need for a radical change in the conduct of humanity" in referring to the ecological concern in 1971 "Due to an ill-considered exploitation of nature, humanity runs the risk of destroying it and becoming in turn a victim of its degradation." – Pope Paul VI in Apostolic Letter Octogesima Adveniens (A Call to Action), 80th anniversary of the publication of Rerum Novarum (1971, No 21)
Creation (or Ecological) Justice is justice for all creation.  It is recognising that all creation is infused with the Spirit of God, our Creator, and that all living creatures have the right to live with dignity. It acknowledges that we, humans, are creatures too, are meant to live as one with all other creation, and to carry a special responsibility to care for and love our created brothers and sisters, from the poor and marginalised in society to the moss in the forest and the fish in the oceans.
With its vision of "people living in oneness with all creation, upholding creation justice", the CJC employs various strategies, which can be carried out collectively by the regional commission or by individual dioceses, to carry out its mission of "advancing creation justice and resilience".
The key strategies are 1) to build leadership and capacity to spearhead and drive the process; 2) to raise awareness through ecological education; 3) to build the ecological movement and ecological models of dialogue, interaction, development, and governance; and 4) to establish ecological focal points of hope and resilience.
Capacity-sharing opportunities can be provided for people to "reduce and stop" harmful ecological practices, and "start and sustain" good ecological practices, eg reducing using of fossil fuel, stopping polluting, stopping deforestation, reusing resources, growing home gardens, etc.
The Roman Catholic Church acknowledges the global climate crisis as a real threat to all life on Earth, mainly caused by human actions.  The climate crisis is a wake-up call that "things are now reaching a breaking point" (LS 61) and that we need to change the way we live in order to protect humankind from self-destruction (LS 79).  The pope calls us to an "ecological conversion" (LS 217).  He asks us to "hear both the cry of the Earth and the cry of the poor" (LS 49).
Supported by CJC's framework, dioceses are urged to lead by example, in walking the talk by stopping all our activities/practices destructive to people and planet.  Small "eco-circles" can be formed all over the dioceses/parishes, comprising of people willing to embrace the ecological way of life.
An example of ecological focal point in a diocese is a demonstration experiential learning site to showcase a productive, climate-resilient, and sustainable living ecological system.  The site could serve as a formation centre, and provide Laudato Si', resilience, justice, and agro-ecology orientation programmes.
Other eco-focal points could be eco-hubs for information/resources/services; disaster risk reduction centres; consumer-farmer eco-markets; and others.
Dioceses can help to identify communities/parishes/Catholic schools or centres, willing to become 'model' sites to showcase ecological and resilience principles and practices on a small scale.
In a plea to all people of goodwill, not just Catholics, Bishop Hii urged, "Look at creation and earth, the common home that we share, as sacred for God is its Creator.  Be responsible stewards to look after Mother Earth as our common home."
The next gathering is scheduled for November 2018. – CS