Solemn Blessing and Official Opening of St Martin's Pastoral Centre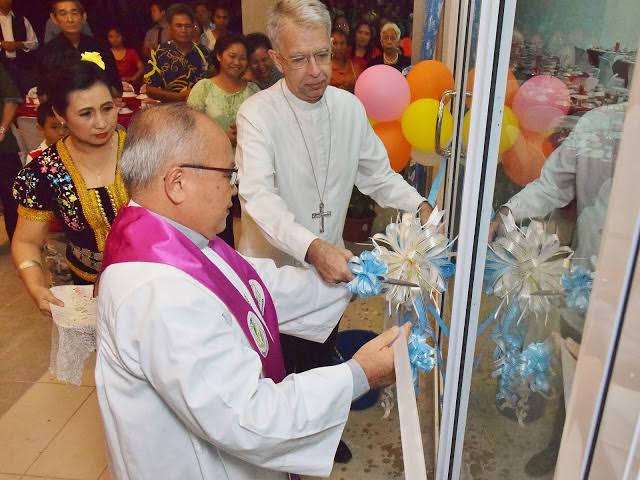 TELUPID – Eight hundred faithful from the parishes in the Diocese of Sandakan converged at St Martin's Church here to witness the solemn blessing and official opening of St Martin's Pastoral Centre Oct 13, as part of the 8th anniversary celebration of the Diocese and the Episcopal ordination of Bishop Julius Gitom.
The occasion was graced by Archbishop Joseph Marino, Apostolic Nuncio  to Malaysia, Bishop Cornelius Piong of Keningau, clergy from the arch/dioceses of Kota Kinabalu, Keningau, and Sandakan, Franciscan Mother General Sr Grace Deosing, and other Franciscan Sisters, as well as Good Shepherd Sisters.
The Pastoral Centre was jointly opened by Bishop Gitom and Archbishop Marino with ribbon cutting and unveiling of the plaque.
Conceived as yet another landmark of St Martin's parish, the hall measuring 70 ft by 100 ft could seat 800 people.  It was constructed at a cost of RM800,000, and the construction was completed and handed over within a span of 15 months.
The anniversary banquet dinner consisting of 70 tables was held at the new hall.
Roger Sebastian Enty, Vice Chairman of the Parish Pastoral Council, bid a warm welcome to all who came from far and near, notably the presence of the Apostolic Nuncio, Archbishop Joseph Marino, it being his maiden visit to the Diocese of Sandakan.
Archbishop Marino was invited to beat the gong three times, a symbolical gesture significant to the indigenous people of Sabah.
The rest of the evening was filled with lively and colourful presentations from the various communities of the local parish and other parishes as well. – Rogena Sining