Statue of Mary installed at Rosary Corridor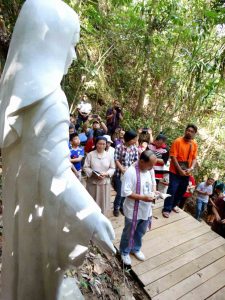 SANDAKAN – About 60 parishioners witnessed the installation of the statue of Mary Mar 7 at the Rosary Corridor of St Mary's Cathedral.
The life-size solid concrete statue of about half a ton in weight was carried from the Rosary Monument at the base of the Mount and installed on a site near a spring water source.  Fr Phillip Muji explained, as he blessed the statue, that the official opening of the site would be solemnized by the Bishop in the near future. He hoped that parishioners would dedicate this site as a place for quiet prayer and contemplation.
Pilis Malim, the Parish Pastoral Council (PPC) Chairman shared that since St Mary's Cathedral was officially declared as the Pilgrimage Center for the Diocese two years ago, the committee has been working tirelessly in developing the area befitting its honor. One of the on-going projects is to develop the Marian Mount as the center for spiritual enhancement.  He explained, since Mother Mary is the Patron Saint of the Cathedral, local parishioners should develop a bond with Mary, an expression of worthy tribute to her, acknowledging and honoring her.
He underlined that the Cathedral Parish is richly blessed with a good spiritual environment with conducive physical setting. He said, the Marian image is always associated with the surrounding of the parish and he visualized that in time to come, St Mary's Cathedral will be as attractive as any other popular pilgrimage centers in the country and even that of Europe.
Touching on the installation site, Edward Mosigi the Chairperson of the Mount Marian Development Committee shared on how they had discovered the site. He recalled, when they were doing the primary survey of the Church boundary, they accidentally came across a spring water source with galvanized iron piping fittings and concrete embankment. It is believed to be the site of water catchment for water supply by the early missionaries. The committee felt that the historical site is appropriate for the location of the statue, not only because of the presence of the water source but also the soothing calmness and serene surrounding. – DOSPO, Dalius LL