HTC bids fond farewell to Sr Aquinas Voon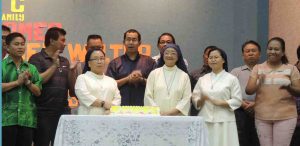 TAWAU – Some 300 parishioners gathered at Holy Trinity Parish Hall Feb 15 to bid Sr Aquinas Voon fsic a fond farewell and at the same time to extend a warm welcome to Sr Martha Jonik fsic and seminarian Walter Milter Mario.
Andrew Kiat, the PPC Chairman. in his welcoming speech, thanked God for the gift of Sr Aquinas  and for her wonderful service extended to the community especially on spiritual guidance and accompaniment.  At the same time he extended his warm welcome to Sr Martha and seminarian Walter to Holy Trinity Parish, expressing confidence that both would journey in unity and collaboration with all other communities and groups in Holy Trinity towards building a stronger community in the Church.
Meanwhile Fr Johnny Raju, assistant rector of Holy Trinity Parish,  has this to say  "Age is not an obstacle in serving the Lord. No matter what we do, as long as we do it for the Lord, it shall always have an impact on others. Sr Aquinas is soft spoken and gentle. Her character has inspired all of us. Let us continue to pray that God will shower His choicest blessings upon her wherever she may be assigned."
Sr Aquinas has been assigned to Holy Trinity Parish, Tawau since 2008. Her 7-year stint at HTC has inspired many parishioners through her gentleness, friendliness, caring and kindheartedness. She has been most active in the Legion of Mary, both Chinese and English ( LOM ), Chinese Special Liturgy, Intercessory Group, the Pastoral Care Ministry and the Chinese Pastoral Community. Besides attending to the home bound for Holy Communion, she was also actively involved in the Senior Citizen Bible Sharing. She would be missed by many.  She would be leaving the Parish towards the end of February. At 78. she would be at the FSIC Retiring House at Stella Maris Kota Kinabalu.
In her brief sharing during the dinner, she said, "I really treasure the moments in this parish. I have experienced genuine love from all the communities, groups and individuals, which has made me part of your family. I will always remember all your support, prayer and care towards me."
Sr Martha Jonik who hails from Papar, was the local animator for  the Convent of Immaculate Conception, Toboh, Tambunan. Thanking everyone for the event, she said, 'Each time we are allocated to a new place, we always hope for acceptance. I have been here for well over a month. I have experienced your warm welcome and friendship. Hopefully we will journey together as a family of God towards spiritual maturity.' Sr Martha is assigned as the local animator for St Clare's Convent apart from rendering pastoral service in the parish.
Seminarian Walter Milter Mario, a second year theology student in St Peter's College, Kuching is assigned to HTC for a 4-month pastoral exposure. He hails from Telupid and is into his 6th year of priestly formation. He was most grateful to the people in Tawau, especially the priest and religious, in welcoming him to be part of the parish family. He said, 'I hope to gain much experience from this exposure, and enriching my own spiritual life. I need your prayer and guidance especially in my vocation journey. I will do my best but the rest will depend on God." – SOCCOM TAWAU, Julita