Tawau hosts 100th World Migrants and Refugees Day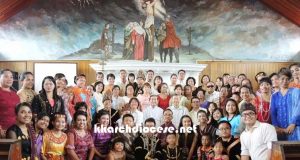 TAWAU – Tawau hosted the 100th World Day for Migrants and Refugees, themed 'Towards a Better World' at Diocesan level Sep 27-28.
The celebration began with a fellowship dinner after the Sunset Mass Sep 27.
Msgr Nicholas Ong, on behalf of Bishop Julius Gitom, graced the occasion. More than 500 faithful attended the event. Present for the occasion were representatives of the Parish Human Development Committee from St Mary's Cathedral, Sandakan and St Dominic's Church, Lahad Datu.
Speeches delivered by the Human Development both of parish and Diocesan level, as well as the pastoral council called on the parishioners to stretch out their hands to welcome the migrants, assisting them in ways to alleviate their plight in line with Mt 25:35, 'I was a stranger and you took Me in.'
The following day, Sunday Sep 28, Msgr Nicholas Ong presided the Eucharistic Celebration, and delivered Pope Francis' and Bishop Julius' messages for World Day for Migrants and Refugees 2014.
Bishop Julius stressed that 'Jesus fully identifies with the sojourner and to welcome the sojourner is to welcome Jesus himself. Jesus teaches us to show concern for the poor and oppressed who come to our land seeking for a better tomorrow. Let not the warmth of welcome and acceptance that flows here be confined within the walls.  Let us continue to reach out generously with an open heart to our brothers and sisters on the move that there is always a better tomorrow, a better world for all.' – SOCCOM, Julita