Founded in France by St Mary Euphrasia Pelletier in 1835 for abused girls and women. Pioneers Srs Dorothy Khaw, Salome Cruz and Barbara Lip arrived in Sabah on 5 Oct 1988.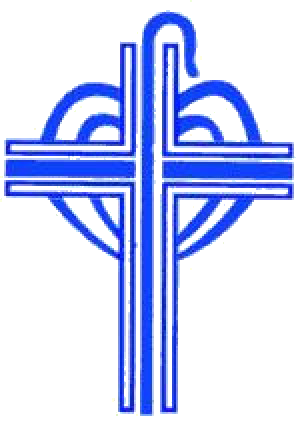 website: http://www.goodshepherdsisters.org.ph
GOOD SHEPHERD SISTERS
Animator: Sr Jossie Sili  RGS
P.O.Box 20647, 88763 Luyang,  Kota Kinabalu Sabah
Tel: 013-4143280
YOUTH-PREP CENTRE Alamesra
Ground floor, Lot 25 Block E Phase 2 Jalan Sulaman 88100 Kota Kinabalu Sabah
Tel: 088-395632 Fax: 088-204151  Hp:014-8660224
Email: youthprepcentre@gmail.com
Facebook: YouthPREP Centre Alamesra
In-charge: Sr Joosie Sili RGS
GOOD SHEPHERD SISTERS
Who Are We?
An International Congregation of women religious, called to a mission of reconciliation, the Sisters of the Good Shepherd express their charism of merciful love through an apostolic life or a contemplative life. United in the same charism, they commit themselves to live the Gospel in the spirit of their foundress, St Mary Euphrasia. Established in France in 1835, today there are over 4000 apostolic and contemplative Sisters present in 72 countries.
Following Jesus the Good Shepherd…
We reach out with love to all those who are burdened and in need of support and help, especially women, girls, children and their families. Through love in action we seek the ultimate good of each person, and oppose those forces which inhibit the full development of life and human integrity. By reconciling the human person to self, to others and to God we witness to a God who is merciful, compassionate and a source of hope for all.
Good Shepherd Mission
Good Shepherd charism is expressed through extensive grassroots services in Malaysia, both residential and outreach, reaching out to women/girls in pregnancy and other forms of crisis, women and their children experiencing domestic violence, children and youth who have limited access to educational opportunities, victim of Human Trafficking.
We reach out and welcome each person with respect and dignity, accompanying each one with care and compassion.
Vision
One person is of more value than the whole world
Mission
We are committed to reaching out with compassion and respect, empowering each person to wholeness and full potential.
Core Values
Compassion, Gratitude, Integrity, Respect and Zeal
Are you captivated by the compassionate Heart of Jesus the Good Shepherd?
Learn more about us, our mission and services
Good Shepherd Sisters
P O Box 20647, 88763 Luyang, Kota Kinabalu, Sabah.
0198422496 (Sr Imelda Sikul)
0134143280 (Sr Jossie Sili)
       Websites:
www.goodshepherd-asiapacific.org.au
http://goodshepherd.my/
http://rgs.gssweb.org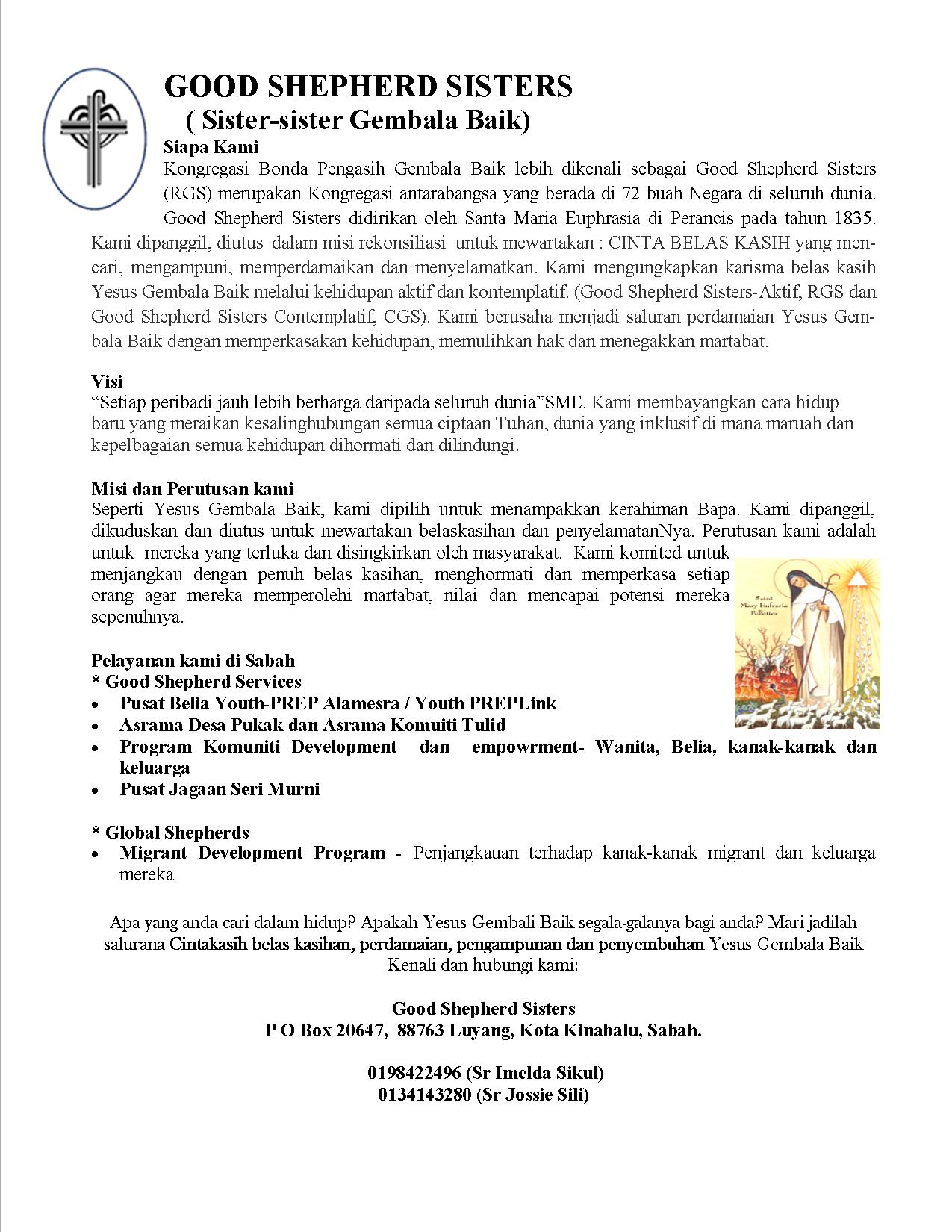 IN CONJUNCTION WITH VOCATION'S SUNDAY READ/CHECK ALSO THE FOLLOWING: