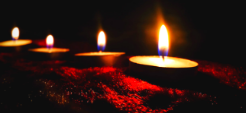 Abba, Father
we thank you for the process of renewal
in our Archdiocese
and for calling us to an ongoing,
personal and communal conversion.
Your Spirit
has led us to know the need
to pray always,
to commit ourselves to your Word,
to foster unity in our communities,
to care for the environment,
to promote peace and justice in society.
In this Third Millennium
of your Son's communion with us,
we ask you ever more fervently:
Send forth your Spirit
that we may continue
to journey together as a family,
in the faith, hope and love of Jesus Himself.
May the same Spirit empower us
to continue the mission of Christ
in the building of your Kingdom amongst us.
Together with Mary our Mother,
we make this prayer
through Jesus your Son
who lives and reigns with you
and the Holy Spirit, one God,
for ever and ever.
Amen.