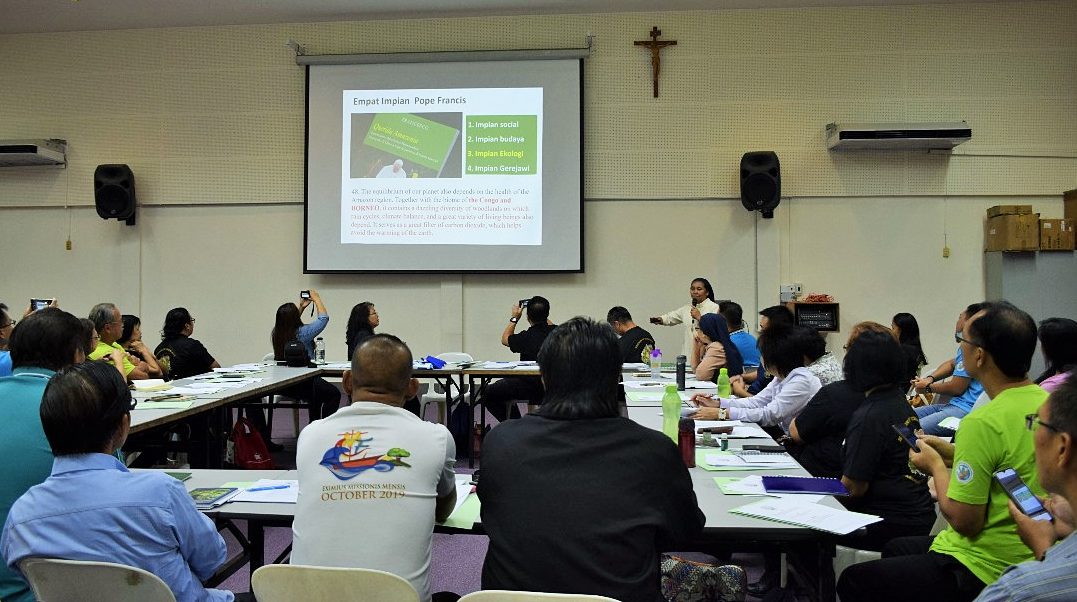 Instill ecological responsibility in the daily life of parish
KARAMUNSING (CS) – A year to its inception, the Archdiocesan Creation Justice Commission (ACJC) remains true to its mission – to instill ecological responsibility in the daily life of parishes in the Archdiocese.
Looking back on its one-year journey, ACJC has conducted several awareness programs at both diocese and parish level in a bid to introduce the Commission at parish level..
At its first Assembly in 2019, the Commission succeeded in its endeavor to establish Parish Creation Justice Committees (Parish Committees) from parishes across the Archdiocese. However, to date there are several parishes which have yet to form such a committee.
Subsequently, an Eco-Outreach Team (EOT), comprising mainly youth, was also established as an essential component of the Commission.
Meanwhile, the Commission has agreed that the focus of its programs would emphasize on training/formation and inculcating an in-depth understanding of Pope Francis' Encyclical Laudato Si', which is taken as the basis for forming ACJC and the Parish Committees.
Towards this end, 46 Parish Committee representatives from 17 parishes across the KK Archdiocese gathered for the inaugural parish level meeting Feb 29 at Sacred Heart Parish Centre. ACJC was represented by several members including four youth from the EOT. Present at the meeting was ACJC spiritual adviser, Fr Russell Lawrine.
In welcoming the various representatives to the meeting, Fr Lawrine spoke of the hope that the meeting would strengthen the cooperation between the Commission and the Parish Committees, while at the same time serve as a platform to discuss environmental issues encountered by parishes, leading to the formation of programs and activities to resolve the problems.
For the benefit of the first-ever gathering of ecological enthusiasts, ACJC coordinator Sr Calista Saliun FSIC reiterated the need for forming the Commission, and highlighted the critical ecological concerns which were aptly described by Pope Francis that "the Earth is at its' tipping point" (LS. 16),
In a nutshell, the Commission in embracing the Laudato Si' document as the embodiment of its vision and mission, is serious in taking steps to nurture the ecological awareness at diocese and parish levels.
She added, Laudato Si' is not a document solely meant for Catholics, but for all humanity, which has since its launch been used by worldwide agencies in discussing about ecology and nature (Mother Earth).
ACJC member Philip Lasimbang opined that there would be challenges faced by both Commission and parish committees in starting something new. "In our search for likeminded people, who share the same passion and commitment, we must be prepared to engage a different approach from what we have been used to," suggested Lasimbang.
As for Fr Lawrine, he is adamant that everyone needs to play a part in order to achieve the mission of forming a caring and responsible ecological community. "The spirit of Laudato Si' needs to be instilled in the daily life of the Church in order to inculcate a conscious caring for the environment, thus putting humanity on the path to ecological repentance,' underlined ACJC spiritual adviser. – Christina David/AC