Tadika Harmoni Penampang rolls out largest batch of 62 graduates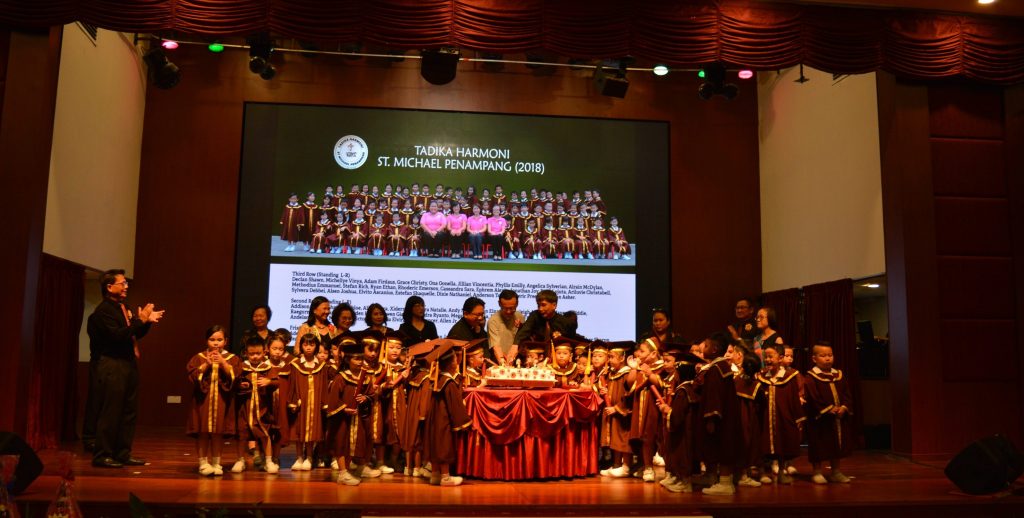 PENAMPANG – Judging from the thunderous applause at the end of their performance, 62 kindergartners from Tadika Harmoni deserved a pat on their back for pleasing the 900-audience with a smooth rendition of two popular songs, "10,000 Reasons" and "You Raise Me Up".
November 20 was indeed an occasion to remember for the third and largest batch of Tadika Harmoni students who graduated after completing their pre-school education, and who would be moving on to Primary One next year.
The dinner event, which was held at the Putra Ballroom, also kicked off the fundraising project for Tadika Harmoni to have its own building to accommodate its increasing population. The kindergarten, orginally housed in the parish hall, has outgrown its capacity.
Present at the event were Archbishop John Wong, parish priest Fr Wilfred Atin, and newly ordained Fr Gilbert Marcus. Also in attendance were Mother General Frances, Sr Rita Chew of the Archdiocesan Education Commission, and Jennifer Anjek of the Archdiocesan Early Childhood Education Committee (AECEC).
Themed "Jesus is my Superstar", the event started off with the recitation of prayers led by the graduating children, followed by the certificate presentation by the Archbishop. He also presented certificates of appreciation to Peter Jupiter Bensing for his contribution to composing the school anthem, and to Lucy Masudal for her contribution to the development of the school logo.
In his speech, Fr Atin informed the audience that Tadika Harmoni is one of three mission kindergartens in St Michael parish, with Tadika Suriaku located at St Aloysius Limbanak and Tadika Cahaya Harapan at St Augustine Kinarut. The three kindergartens have a total enrolment of over 250 children.
He went on to emphasize that establishing the right foundation for the age group 4-6 years old is critical for their development and urged parents to take cognizance that their children must not only develop academically but must also acquire social skills and most importantly, faith and spiritual development.
Fr Atin highlighted that the Vision and Mission of the kindergartens in the parish, and basically for all mission kindergartens, centers on faith development, academic development and personal development for a rounded and balanced foundation.
Meanwhile, Archbishop Wong congratulated the children for moving on to primary school next year and hoped that their exposure to English, which is the language of delivery at the mission kindergartens, has prepared them better for the next phase of their schooling.
He was happy to note that more mission kindergartens are now teaching the children additional languages (Kadazan and Chinese) after normal class hours. This would expand their language proficiency, especially in their mother tongue.
He went on to say that he recognized the need for quality education right from the pre-school stage. With that in mind, he had directed AECEC to develop a strategic plan to improve the quality of mission kindergartens so that they become a kindergarten of choice for parents.
The Archbishop could not but emphasize more the importance of a mission-kindergarten education "Although there are over 2,700 children currently enrolled in the 34 mission kindergartens, we need to attract more children especially into the newly established mission kindergartens." – Ephraim Kouju