Sandakan Municipal President gets a visit from the Church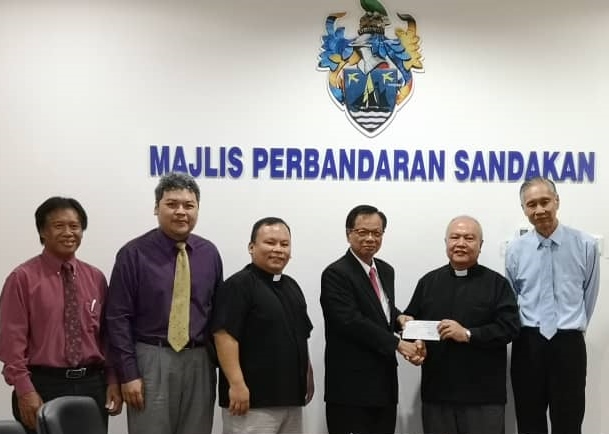 SANDAKAN – Bishop Julius Gitom led a five-member delegation to pay a courtesy call to the President of Sandakan Municipal, Datuk Peter Hii, in his office, at the Wisma Majlis Perbandaran Sandakan Nov 27. The main purpose of the courtesy call was to inform the Sandakan Municipal President about the Diocese of Sandakan and the St Mary's Cathedral Parish.
Bishop Gitom briefed Datuk Hii on the history of the erection of the Sandakan Diocese eleven years ago, while parish priest Fr David Garaman delivered the history of the oldest church/parish in this region, St Mary's Cathedral, which was established in 1883.
Historically, the St Mary's mission, as it was called then in 1884, established the first school in the North Borneo (Sabah). Many of the local leaders, politicians, and successful businessmen obtained their early education in St Mary's school, Fr Garaman added.
Currently, St Mary's is running two secondary schools and three primary schools. all located at Mile 2 Labuk Road.
Besides schools, St Mary's also has a multipurpose hall cum hostel which provides a place to stay for the outstation students, especially those from the not-well-to-do families.
Hii revealed that he was amazed and impressed by the Church's history and work on humanity.
He responded with a gesture of appreciation to the visiting delegation as he presented his personal donation to Bishop Gitom on behalf of the parish of St Mary's Cathedral. – DOSPO