Kuching emeritus celebrates 90 years of God's faithful love in his life and priesthood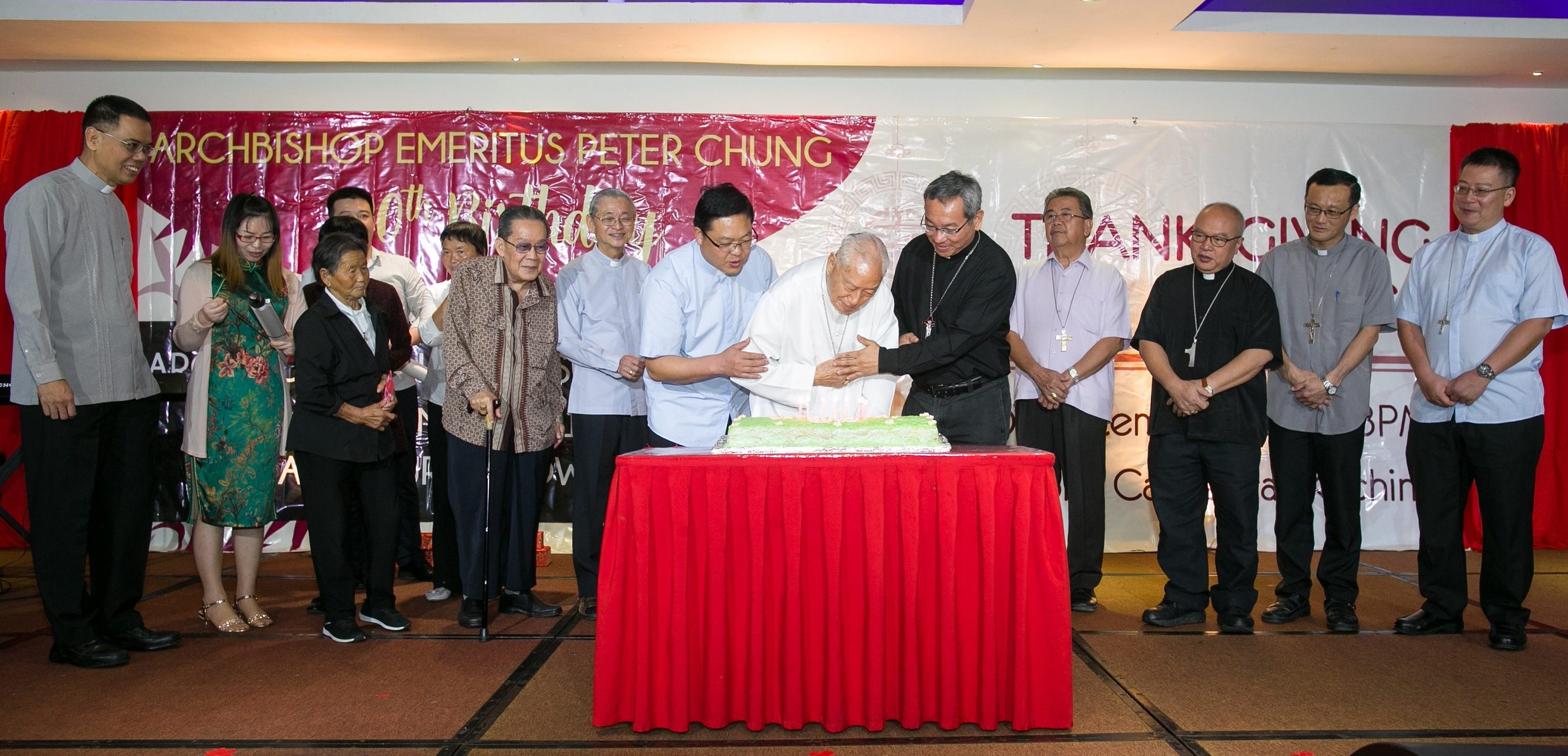 KUCHING – The Archdiocese of Kuching has a lot to thank God for the gift of Archbishop Emeritus Peter Chung Hoan Ting, who has given his entire life to serving the people of Sarawak.
On 10 September 2018, bishops, priests, the lay faithful and his family and friends, came together to celebrate the 90th birthday of Archbishop Emeritus Peter Chung at his thanksgiving Mass.
The Archbishop Emeritus presided the Mass, which was concelebrated with 10 archbishops and bishops and priests from all over Malaysia.
He recalled how God has shown him love throughout his life and priesthood "My father died six months before I was born, and my mother remarried after three years, thus I was left to the loving care of my grandmother and aunt, who were devout Christians, and gave me a good Christian upbringing," he said.
Despite the outbreak of World War II and the great famine it caused, followed by the rise of communism in China, he persevered and completed his seminary formation in June 1954.
He was sent to Sarawak on 21 August 1954 and ordained priest on 26 September that same year. His was the first ordination in the land of Sarawak. On 15 November 1970 he was ordained Coadjutor Bishop of Kota Kinabalu and was installed as Archbishop of Kuching on 26 November 1976.
Archbishop Emeritus Chung thanked the archbishops, priests, sisters and all lay people for their kind acceptance, cooperation and support "I promise you, I will continue to pray for you and for the local Church. And I beg your continual remembrance of me in your prayer," he pledged.
The prelate shared the secret of his joy and strength, that is, the Holy Mass and God's word. He urged the congregation to do the same. "Make good effort to read, reflect and practise God's word in the Bible, especially the Beatitudes. You will surely find true happiness as Jesus has promised."
A birthday dinner was organized by the Archdiocesan Pastoral Council the evening before at a local restaurant, attended by a thousand guests, including his relatives from China.
A video featuring a typical day in the life of the retired archbishop, which was produced by the Social Communications Committee, was shown.
Since his retirement in June 2003, Archbishop Emeritus Chung has not ceased to serve the laity. He continues to minister to the people through daily celebration of the Eucharist, hearing confessions, giving formation, counseling and other assistance.
Cecilia Chung, the niece of Archbishop Chung, thanked all present for having accompanied and supported the archbishop emeritus throughout his life. She requested that they continue to offer him the same loving companionship and support. – Today's Catholic