Stella Maris initiates 'Prayer for Priests'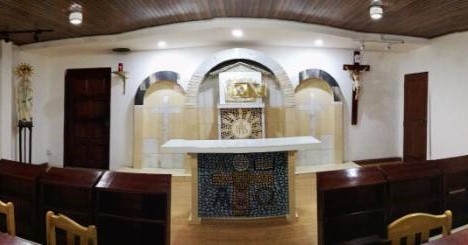 TANJUNG ARU – In conjunction with the Feast of Assumption, Stella Maris Parish (SMP) organized a talk entitled "Mary, Mother of Priests", as a catechesis for the Prayer for Priests on Aug 14 at the Blessed Sacrament Chapel here.
SMP is a newly registered member of Vianney Cenacle, which is approved by Foundation Prayer for Priests, USA.
The Foundation of Prayer for Priests is an International Eucharistic apostolate of prayers and catechesis established in 2013 with the approval from the Vatican's Congregation for the Clergy.
Their mission is to spiritually protect and advance the holiness and fruitfulness of the Priesthood through prayer, sacrifice, service, and study.
Eucharistic Adoration, Marian consecration, and spiritual motherhood or fatherhood of priests and seminarians are central to the mission. Through individual or communal intercessory prayer, reparation and the offering up of suffering, clergies are spiritually built up and protected.
Prayer is offered in homes, parishes or prayer groups named "Vianney Cenacles" (named after  the patron Saint of priests, St John Vianney).
For the inaugural catechesis, assistant parish priest Fr Peter Abas shared on 1) The Journey Towards the Priesthood; 2) Challenges: Can Become Obstacles of Responding to God's Calling; and 3) Being Priests: Emphasis on Self-attitude. (A priest looks at himself as being a leader encompassing the roles of a servant, steward, and shepherd.)
Fr Abas testified to his faithfulness and honor to Mother Mary, who has helped him face many challenges while striving to do the will of God at every moment of his life, yet confronted with the countless obstacles and temptations of modern life.
We also have the opportunity to interview a few parishioners:
Religious – "Being weak and human too, the priests need all the support and prayers from the congregations. Amidst the many challenges and various needs of the church that the priests are facing, let it also be our concern as children of God to understand, be considerate and supportive to our priests, to journey together with our priests towards the vision and mission of our parish."
Adorer – "This is the first time we hear of this Foundation of Prayer for Priests. It is very good and we hope to have more of these prayer sessions in the future. After hearing the testimony from a priest, we can understand the difficulties and challenges of priestly life and we want to support them in prayers."
Laity – "An eye-opener for me because I have always thought that priests are one above ordinary people and who should have fewer challenges and do not need prayers to help them. I would certainly join the group to pray for priests."
The attendees prayed the Litany of Prayers for Priests and sang hymns for Adoration and Benediction and concluded with Mass.  SMP will eventually organize a weekly Prayer on Thursday for Priests, and monthly Adoration. – SMP Media