Barefoot priest facilitates Sabah clergy annual retreat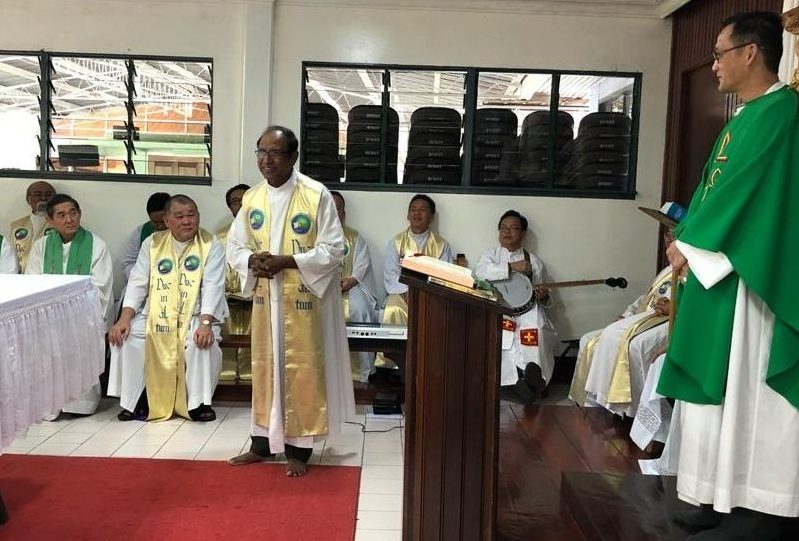 KOTA KINABALU – Arch/bishops, clergy and deacons from the three arch/dioceses of Sabah were given a rare treat for their mid-year retreat with a barefoot priest from Tamil Nadhu, India as their retreat master at Bundu Tuhan retreat centre from 10-14 September 2018.
Natives going barefoot are not rare in the villages, but to have one barefoot Catholic priest walking and ministering amongst his peers, albeit from overseas, is a rare occurrence.  Fr Jerry Rosario  has earned his accolade as the "barefoot priest" internationally not because of his personal gratification but because he has willingly and lovingly accepted to live like this – embracing poverty and extending solidarity with the marginalized.
Fr Jerry Rosario SJ has just two sets of shirts and slacks, walks barefooted, sleeps on a mat and travels only through public transport.  Short distances he covers through his bicycle.  No TV, no mobile phone, no computer.  No bank account, no wrist-watch even.  He is a living legend.  To his credit, he has written 76 books and numerous articles. (Foreword by Fr Antony Pancras in Perspectives, Possibilities, Practicalities of Leadership in the Light of the Life of Jesus)
This being his fifth retreat for Malaysian clergy, the Jesuit priest, who is also a professor, lawyer and social activist, finds Sabah unique and declares that he has put his "heart and soul" in facilitating the retreat exercises for the Sabah clergy.
Given the traditions, the clergy have got into a certain comfort zone.  "Nothing wrong about it" he was quick to add, "but when comforts and conveniences consume the life of the ordained and consecrated, they need to be looked into," underlined Fr Jerry.
He invited them to respond to this concern in a pragmatic way – to say 'no' in their personal life, to be ready to go beyond themselves to "make a difference", to be at the service of the people of God, particularly the least and the poorest.
To concretize their response, Fr Jerry suggested that they make an analysis of society crossing the boundary of Christianity, to read the signs of times in terms of socio, economics, political, cultural, religious and ideological systems of the State, based on which they should monitor the pastoral responses in order to make their ministries relevantized and radicalized.
Taking the opportunity of the presence of the social activist priest in the State, Catholic Sabah invited Fr Jerry to speak about the minorities aspect shared by Malaysian and Indian Christians.
"Each time that I visit Malaysia, I could vibrate with the Malaysian Church and Society because of the various similarities that exist between India and Malaysia," said Fr Jerry.
He threw the spotlight on two related issues; a certain amount of "majority complex" happens in any country (religion, culture, language) and creates tension for the minorities.  However, attempts to understand should be made so that response could be made.  For example, certain dialogues (religious, cultural, inter-lingual, etc) between majorities and minorities be freely done in view of a new future where all can live in harmony.
Meanwhile, the emerging and young generations should be encouraged to "think out of the box" in order to enter into a Malaysian Church and Society based on a culture of solidarity.
Secondly, "If you inwardly look into Malaysia or India, we are not going to solve any problems.  We need to widen our horizon of vision in broadening Asia, if not the world at large," said Fr Jerry, drawing from his sociological inspirations when looking at the bigger picture, the problems within the smaller confine will diminish.
Moving on to the Christian commitment in the political arena, Fr Jerry, founder-director of the Manitham movement in India for political analysis and action,  sees it as two-fold: religion and politics.  He said "In order to be an authentic and matured Christian, one should not be churchy.  In other word, we need to be launching out to bring into politics the values of the Gospel of Jesus – justice, freedom and love." (In the political language, these values are highlighted as equality, liberty and fraternity.)
He added "If we keep away from politics saying that 'that is unjust', it would amount to sin of omission.  God's kingdom has to be ushered in the totality of society."
Since we have a new government and lots of expectation on the part of the people, the Malaysian Church can render its service in three ways: 1) It can continue to conscientize people at large, as well as the government, that the policies and programs must respond to the needs of people who are at the periphery of Malaysia; 2) As and when the government does well, the Malaysian Church should extend its appreciation, thereby accelerating the process of progress.  Likewise, when the government does a disservice, the Church must not hesitate to raise its voice in protest; and 3) The Malaysian Church can organize workshops and seminars at both parish and diocesan levels focusing on the political commitment of our Christian faith.
Fr Jerry has also spoken extensively, as well as written, on the fast-emerging concern of eco-protection and eco-promotion.  In total agreement and support of Pope Francis' contribution to this eco-call in his apostolic encyclical "Laudato Si'", the green activist said "We need to promote Nature, preserve Nature, and protect Nature because God sustains our life through Nature, through Creation."
He offered three suggestions to live Creation Justice in our life: 1) To begin with, we should stop throwing away anything that could be reused; 2) We need to learn to recycle the materials that we use on daily basis; and 3) We need to replant whenever we have to cut a plant so as to maintain the balance in Creation.  Imbalance means injustice.  We need to plant justice."
As he strives to respond to God beckoning him to be His Co-Missioner and entering into a new covenant with humanity and Creation, he has taken the lowest step in the ladder of the Indian caste system, that is to live in solidarity with the poorest of the poor and those who are side-lined in society, the Dalits or the 'untouchables'.  They are not permitted to wear shoes in public places, hence Fr Jerry's philosophy of going barefoot to be in solidarity with them is in order to labour with them for their integral development.
In the context of Malaysia, the Church can be more and more one of simplicity, spontaneity and sensitivity, and as such be in solidarity with the poorest of the poor who are the migrants, the internally displaced, the uneducated, the unemployed, the vulnerable elderly, the widowed, the orphaned, and the natives.
The Vision Statements of the Sabah dioceses emphasize on "communion of communities".  In order to concretize that, we first need to be in communion with the abovementioned "poorest of the poor" or the marginalized sections.  This would then snowball into the other sections of the community.  Fr Jerry believes that preferential option for a priority service to the poorest of the poor is the need of the hour. – Catholic Sabah