Korean Talents Raise Funds for Woori Jib Home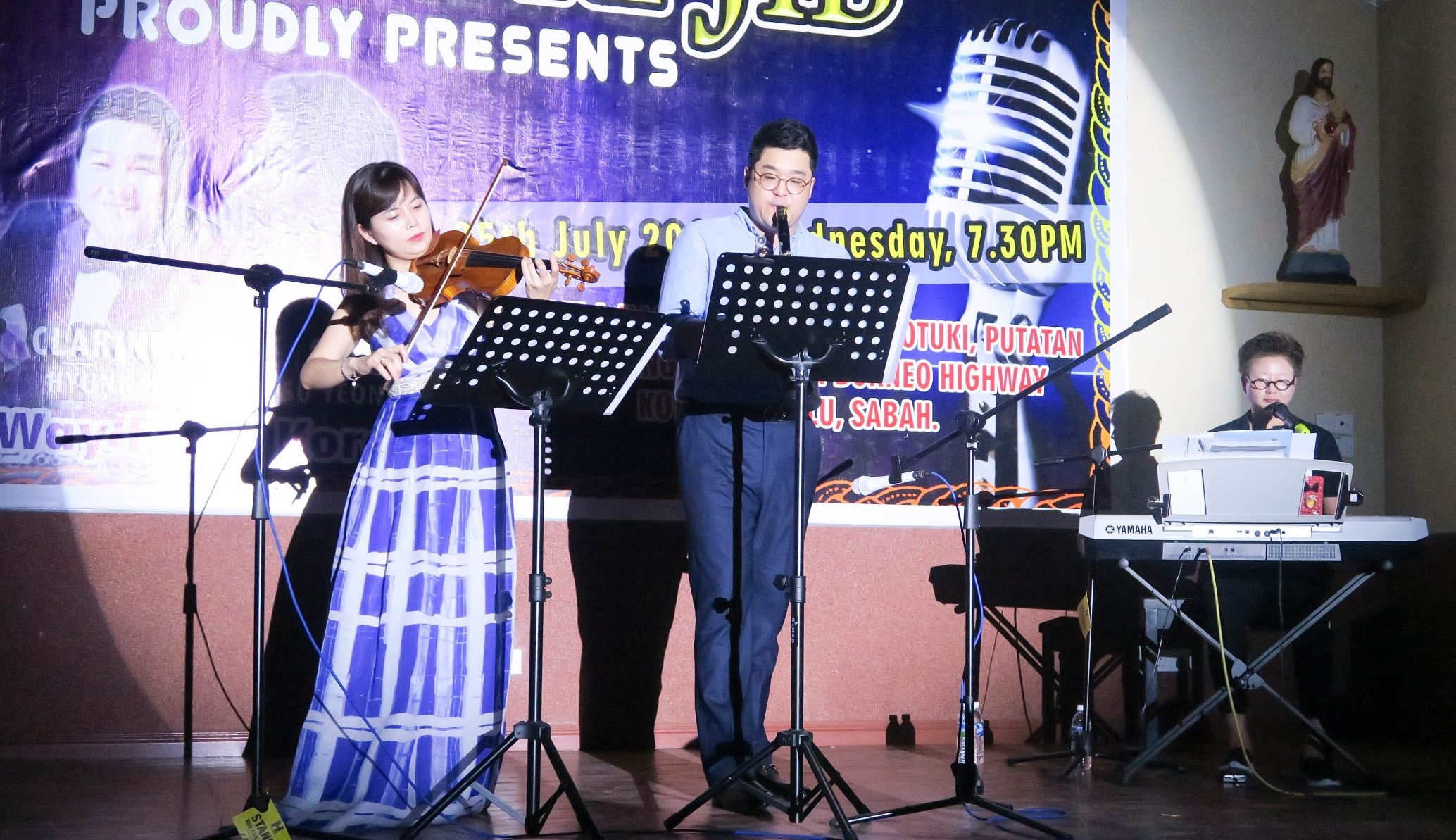 From left Kim Su-Yeon, Hyunkang Lee and Kim Si-Yeon Agnes performing live at Woori Jib Charity Concert July 21
 POTUKI, Putatan – For the love of the orphanage children at Woori Jib St Francis Xavier here, three talented artists flew all the way from South Korea to perform live in a charity concert aimed to raise funds for the welfare home.  The home is run by the Clerical Society of the Most Holy Trinity of Mirinae, South Korea on 21 July 2018.
The Korean trio, Kim Su-Yeon, violinist, Concert Master at Gwangmyeong Symphony Orchestra and Professor at Catholic University of Korea, her husband, Hyunkang Lee, clarinettist, Principal Clarinet of Gwangmyeong Symphony Orchestra, and Kim Si-Yeon Agnes, singer, astounded the audience with 11 classical and spiritual instrumental numbers.
Among others were "Gabriel Oboe" by Ennio Morricone, "Air on G String" by Bach, St Ignatius Prayer, Lord Here Comes Your Servant, and a couple of pop-jazz numbers "Moon River" by Frank Ocean and "Fly me to the Moon" by Frank Sinatra.
The first-ever Woori Jib charity concert attracted close to 200 people from around Kota Kinabalu,Penampang and Putatan itself.
The one-hour show opened with a singing performance by Woori Jib children, followed by the main performance, and closed with two songs, performed by combination of the trio and the harmonious choir group of Woori Jib Home.
Fr Andrew Kim Youngjun said that God's grace has enabled the concert to take place and that it was dedicated to the children of Woori Jib. He hoped that through this show, they would become more motivated to live in the joy of Jesus Christ.
Archbishop John Wong, invited guest, said that the music that night lifted up their spirit and was very entertaining and very encouraging. Personally, he especially awaited the instrumental piece of St Ignatius Prayer.
Talking about the role of music in a person's whole development, the archbishop said, "Our new federal minister of education has suggested that the amount of time allocated for music and arts in schools might be increased.
The minister said that given the fact that learning is not entirely academic, "by increasing more time to learn music and arts, our students will be more balanced in their development as human being".
"I fully agree with him because education is for the development of the whole person's mind, spirit and soul," said Archbishop Wong in agreement.
He encouraged Woori Jib Home, "I hope through this musical performance, Woori Jib will promote greater interest among the children here in Potuki that in time to come, they will take up music."
Encouraging the audience too, he said, "And all of us adults, I hope we too will learn to give time to music and allow music to calm our mind and our heart so that we can be wholesome in life."
Taking the night's concert as a beginning that leads to this development, the Archbishop said he hoped to see more concert in the future. – Linda Edward