Manila hit by floods, Card Tagle opens churches to those affected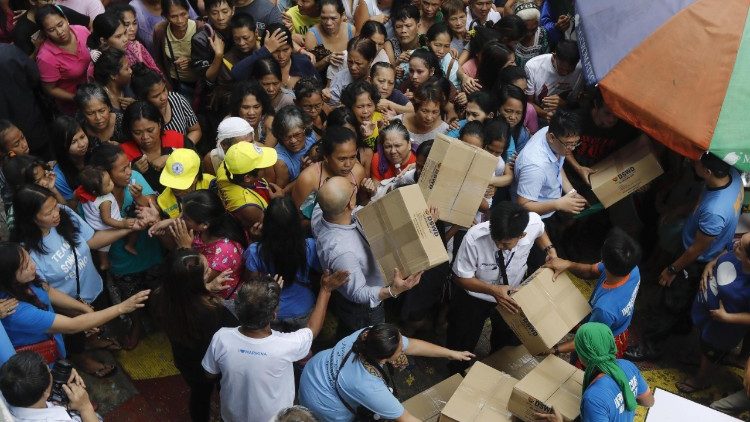 MANILA – Catholic churches in Manila were opened to accommodate thousands of people displaced by widespread flooding in the Philippine capital caused by several days of heavy rain.
Cardinal Luis Antonio Tagle of Manila ordered parishes to open churches and urged people to help those in need.  He also encouraged contributions to these parishes and social action centres.
Cardinal Tagle noted that the floods — as deep as two metres in some places — might be a reminder from nature for people to care for what Pope Francis has described as "our common home."
"Part of our call is for everyone not to add to what could destroy our environment," said the cardinal.
The flood prompted the Catholic bishops' conference's social action arm to call on the government to fast track the creation of a government department in charge of disaster preparedness, mitigation and response.
Father Edwin Gariguez of the National Secretariat for Social Action said such a department was "very urgently needed."
He said that while church organisations "have already carved out a way for a more responsive and integrated disaster response … there is a need to make these efforts more sustainable and spread out across the country."
The southwest monsoon, boosted by tropical storm Karding, brought heavy rains and floods in different parts of Metro Manila over the weekend [11-12 Aug 2018], killing three people.
The rains and floods affected a total of 248,080 families or about 1.1 million people from 713 villages in Manila and surrounding regions.
Of the total affected population, 13,724 families or 59,108 individuals were displaced and took shelter in evacuation centres.
A total of 51 houses were destroyed and 3,127 others were damaged in the Ilocos and central Luzon regions.
The Philippine state weather bureau said several areas, including Manila, might continue to experience flooding in the coming days.
Classes were suspended on Aug 13 as authorities expect moderate to intense monsoon rains to hit the northern part of the country.
Meanwhile massive clean-up efforts are under way in Manila, with piles of garbage and debris having washed up on roads and streets as a result of overflowing major dams and rivers that serve the city.
Residents were seen trying to salvage whatever they could from the accumulated wreckage. – CBCP News/Vatican News