Kelatuan hosts Papar parish level Pesta Kaamatan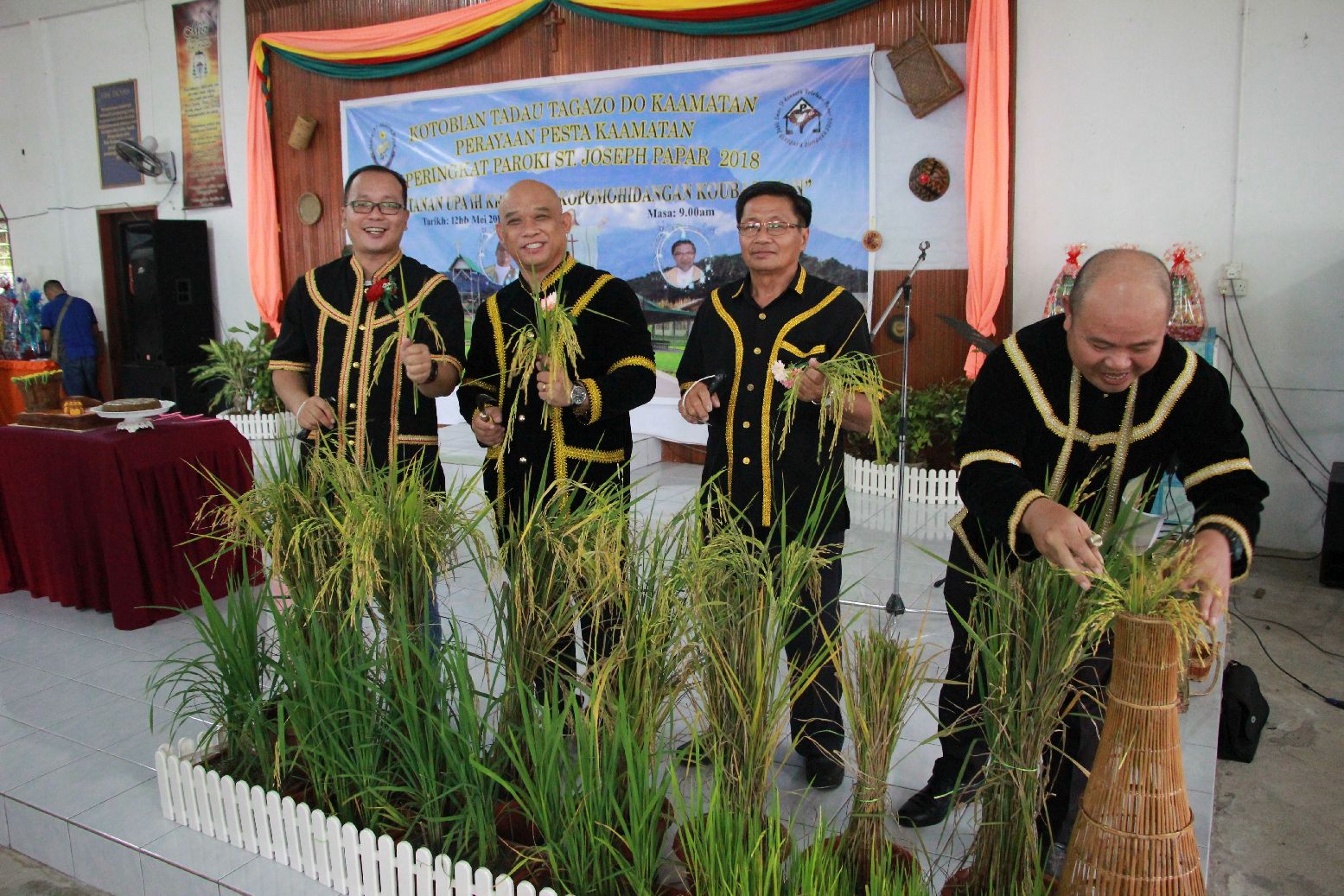 PAPAR – This year St Kenneth Kelatuan hosted Papar Parish-level Kaamatan Festival on 12 May 2018.
The four zones of Kimanis, Bongawan, Lakut, and Dambai with St Joseph Church as the centre take turns to host the parish-level celebration.
The festival kicked off with a modest traditional procession entering the church for Mass at 10 am presided by Father Rayner Bisius.
In his welcoming speech, Wilfred Yundang, chairman of the organising committee, said that the festival is not merely a thanksgiving to God for a bountiful harvest but also a time to embrace, preserve, and sustain cultural values and traditions for future generations.
In his turn, Johnny Sitamin, chairman of Papar Parish Pastoral Council, said the theme is derived from the archdiocesan theme: Encountering the Face of Christ in the Purification of Culture.
He added that culture must be nurtured from childhood so that it would not be so easily polluted by negative cross-cultural influences or possibly face extinction in the waves of modernisation.
A healthy culture, Sitamin added, must be Christ-centred.
In his message, Fr Rayner gave thanks to God for Christ's Resurrection has given hope to humanity and he prayed that the festival may bring unity, reconciliation, and joy to the parish community.
He said, "God gave us the KadazanDusun culture, with a unique and obvious introduction through our mother tongue.  Unless we nurture and preserve it in our children, family, and, in the generations to come, this culture will vanish into the age of time."
The priest further reflected on the theme, inviting the faithful to look into and feel the presence of Christ in their family and community during the festive celebration in the hope of fostering joy and reconciliation to all, based on Christ's message to his disciples, 'Peace be with you!' (Luke 24:36).
In his closing remarks, Fr Rayner read out the message of the parish priest, Father Thomas Yip, relaying his thanks and prayer for God's blessing upon the parishioners for their efforts, support, contributions – be it financial, manpower, etc –  in ensuring this year's celebration a fruitful one.
Thereafter, the priest prayed for God's blessing upon the padi and crop seedlings for a bountiful harvest in the year ahead.
The congregation then proceeded to the Fr Aloysius Tung Hall for cultural performances and events such as traditional cuisine and traditional 'Tapai' competition, Kinomulok (children's Kaamatan beauty queen contest), tugs of war final and lucky draws.
The events in the church hall began with the traditional Mongomot ceremony (symbolic cutting of paddy stalks) followed by cake-cutting by Fr Rayner, PPC chairman, organising committee chairman and members.
After lunch, the priest joined the parishioners in visiting the numerous stalls set up by the four zones and outstation communities showcasing traditional food, drinks, songkotoun music performances.
The event wrapped up with prize presentations to the winners of the various traditional games, KD psalm singing and Manangon (story telling) in competitions held a week earlier on May 5. – William Charles Mindus (SOCCOM Papar)