Sandakan cathedral parish welcomes 85 new members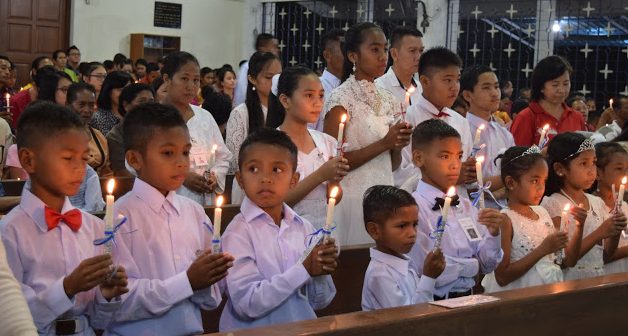 SANDAKAN – Saint Mary's Cathedral here welcomed 85 new members into its parish family this Easter.
Sixty of them were baptised during the Easter Vigil, 31 Mar 2018,  at the cathedral while 25 were baptised at St Mark's Church, 20 km from Sandakan.
Bishop Julius Dusin Gitom presided at the Easter Vigil, concelebrated witb Father David Garaman.  It was attended by some 1500 parishioners.
In his homily, the prelate called on those to be baptised in the resurrection of Jesus to be filled with joy in their hearts, to step out from darkness into the light of Christ with bonds of love through baptism.
The prelate also addressed the faithful on the importance of renewing their Baptismal promises. It is a reminder that Christ has risen and lived among us, to celebrate the resurrection of our Saviour, who saves mankind through his unconditional love and sacrifice.
Meanwhile, in his homily at St Mark, Father Christopher Ireneus said:"In life, we have a big rock that weighs us down. What is that big rock? It's our sins. The resurrection of Jesus has removed the rocks that weigh us down. Believe that even now, He is still able to roll away the stone that weighs us down in our lives."