Pope Francis registers for World Youth Day 2019 in Panama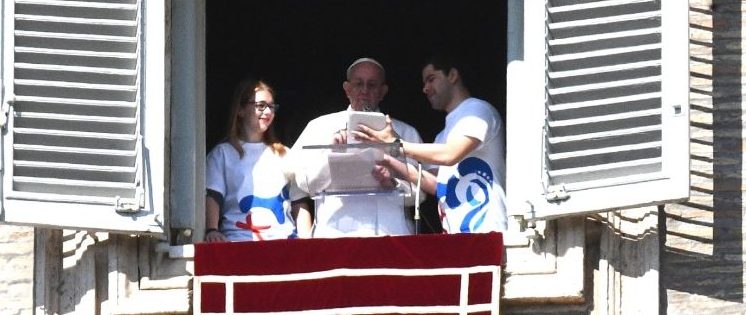 VATICAN CITY – After delivering his weekly Sunday catechesis and praying the Angelus with the crowd gathered in St Peter's Square on 11 Feb 2018, Pope Francis declared "Registration opens today for World Youth Day, which will take place in Panama in January 2019. Right now, along with two young people, I too will register on the internet."
Then with the help of two people on either side, Pope Francis registered himself. "There." He said, "I am now enrolled as a pilgrim to World Youth Day. I invite all young people around the world to live this event of grace and fraternity with faith and enthusiasm, either by going to Panama or by participating in their communities," the Pope said.
World Youth Day will take place in Panama from 22-27 January 2019. Pilgrims can now register online here, just like the Pope did!
Pope Francis then sent cordial greetings to the "millions of men and women who will celebrate the Lunar New Year" on 15 February. He hopes that they "will live ever more in solidarity, fraternity, desiring to do good, to help create a society in which every person is welcomed, protected, promoted and integrated." And he invited them to pray for peace.
The Pope then greeted families, parishes, and groups from Italy, Spain, and Portugal. He greeted in a particular way the Congolese community from Rome present in the Square. "I join in its prayer for peace in the Democratic Republic of the Congo," he said, and reminded everyone that "this intention will be particularly present on the Day of Prayer and Fasting that I have called for February 23."
After greeting newly confirmed young people from Italy, the Pope concluded addressing the sick. Invoking Our Lady Help of the Sick he prayed that they might "find comfort in body and spirit, thanks to adequate health care and the fraternal charity that knows how to give concrete and supportive attention to those in need." – Bernadette Mary Reis fsp, Vatican News