Pope at audience: 'brief, well-prepared homily at Mass'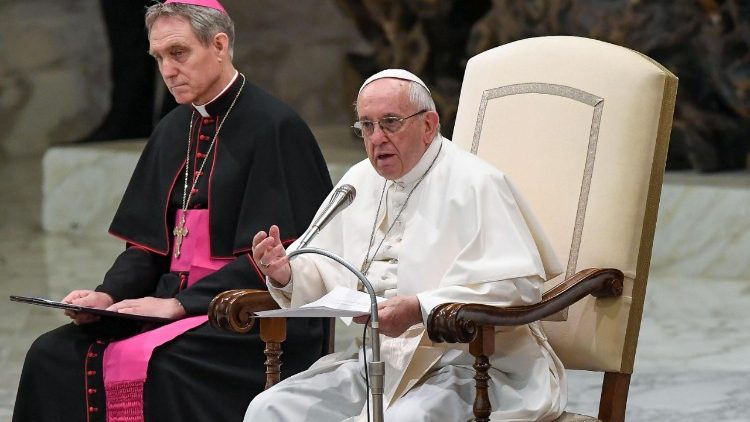 VATICAN CITY – Pope Francis continued his catechesis on the Mass at his Wednesday General Audience on 7 Feb 2018, reflecting on the culmination of the Liturgy of the Word in the Gospel and the homily.
He said the Gospel sheds the light of the mystery of Christ on the scriptural readings that precede it.  "Within all of Scripture, as within the whole liturgical celebration, Christ is the centre and fullness," he said.
The Pope said the rites surrounding the Gospel proclamation aim at venerating it as the living and saving word of God. "Through these signs the assembly recognises the presence of Christ, who sends the 'Good News,' which converts and transforms."
He said, "We listen to the Gospel, and we must respond with our lives."
Pope Francis then turned to the homily, which he said continues the dialogue between the Lord and his people already opened up by the Gospel.
"The Word of the Lord enters through the ears, arrives at the heart, and goes to the hands [to perform] good works. The homily," he said, "also follows the Word of the Lord along this journey".
The Holy Father said the homily requires both the preacher and the congregation to be open to God's Word.
The homilist, he said, must "pay due attention, taking on the correct interior dispositions – without subjective pretexts – and knowing that every preacher has strengths and weaknesses. Sometimes the congregation has reason to be bored by a homily that is too long, irrelevant, or incomprehensible; at other times, it is prejudice that becomes an obstacle."
Speaking off-the-cuff, Pope Francis spoke to priests, deacons, and bishops who preach at Mass. He said the homily must be well-prepared and brief.
The way to prepare a good homily, said Pope Francis, is with "prayer, study of the Word of God, and a clear, brief synthesis, which must not go over 10 minutes". – Devin Watkins, Vatican News