Over 200 CWL delegates participate in annual assembly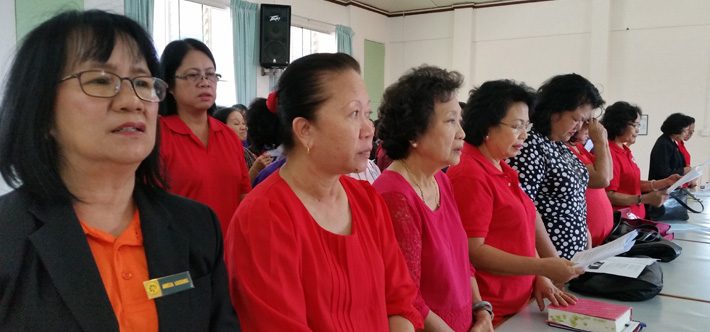 BUNDU TUHAN – Over 200 representatives of the Catholic Women's League participated in the 32nd Annual Assembly at the Bundu Tuhan Retreat Centre here on 29 Nov – 2 Dec 2017.
Two hundred and fourteen women from across the archdiocese took part in the event themed "Women of the Bible."
The programme was a two-day retreat guided by Father Paul Lo, which concluded with the General Meeting on the last day.
In his opening speech, Archbishop John Wong advised the delegates to take the retreat seriously, reflecting on the words that they would hear during the retreat.
He hoped that the women would emulate the lives of the different women in the Bible in their role as mothers of families, and that they would be filled with the Spirit and be more committed in their service to the Lord.
Anita Tunggolou, chief coordinator of the Archdiocesan Catholic Women's League, thanked the archbishop for his presence as well as for his continuous support of the organisation.
She also urged all members to give their full support to their respective parish priests and to be fully committed in carrying out their responsibilities to the best of their ability.
For the retreat proper, Fr Lo drew the delegates' attention to the lives of the different women in the Bible, highlighting their courage, their prayer-filled life and their unwavering faith in the Lord.
Besides the inputs, time was given for personal reflection, Adoration of the Blessed Sacrament, and confession.
The next part of the retreat was the business of the General Meeting, in which reports from the various Catholic Women's Leagues were presented, followed by a Question and Answer session. – Anita Tunggolou/ACWL