Tg Aru EAM marks 20th anniversary with yearlong activities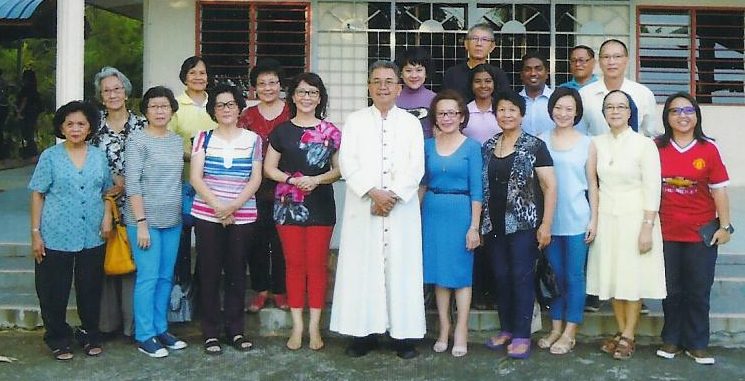 TANJUNG ARU – The Eucharistic Adoration Ministry (EAM) of Stella Maris Parish here marked its 2oth anniversary on 8 Dec 2017 with yearlong activities.
The programme began with a retreat on Jesus the Eucharistic Healer facilitated by Putri Karmel Sister Maximilliane Soon at Pace Bene on 10-12 March 2017 with 100 attendees.
On June 18, the members celebrated the anniversary Mass at the parish church during which they renewed their commitment to spend an hour a week before the Blessed Sacrament.  A Eucharistic procession was held after the Mass.
Over 200 members, families and friends attended the anniversary dinner on June 25 at a local restaurant.
The concluding activity was an overnight visit to the Holy Family Pilgrimage Centre Nulu Sosopon Keningau on July 29.  They had a guided tour of the church, Cross Tower, the statues of Mary and of the Holy Family.
They had fellowship with the Betania Komuniti Adorers who hosted a lunch for them and took them to visit Bishop Cornelius Piong at the Katedral St Francis Xavier.
The Keningau prelate celebrated Mass for the visitors, inspiring them with further insights of Eucharistic Adoration.  The day ended with a fellowship dinner where the visitors presented tokens of appreciation to the bishop and the Betania Komuniti Adorers.
The visit concluded the next day with a visit to the Gethsemane Garden in Tambunan.
The ministry was initiated by then pastor Father Francis Tsen.  It was officially launched by Bishop John Lee on 8 Dec 1997 with an exposition of the Blessed Sacrament.
Since then there has been a committed adorer every hour, Monday-Saturday, 5:00 am-10:00 pm. Members are committed to spend an hour a week to adore the Lord, but some are committed to more than an hour a week.  Some have been coming for 20 years.
For those who wish to commit themselves,  please contact Elizabeth Chia @ 012-828 0409 and Cindy Tsen @ 016-817 5169 for further details. – EAM Stella Maris