"I want to go forth to share the Good News"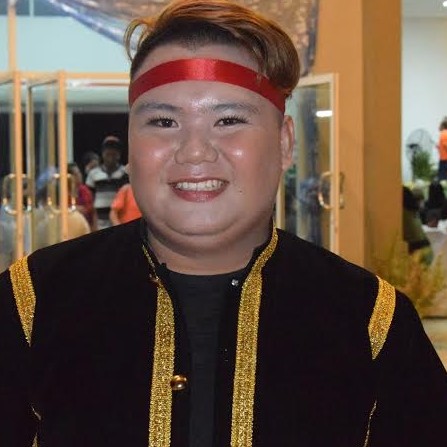 TELUPID -"I want to go forth to share the Good News," said Gibson Yahan in an interview by the Sandakan Social Communication Commission recently.
Gibson, a youth in his early 20s, is a member of the Tarian Magalai Dusun Labuk. His passion in traditional dance has made him much sought after by the ladies' group in traditional dance where male dancers are required to complete the set-up.
Together with another male dancer, they practiced the Magalai Dusun Tarian with the female dancers for the last few months. It was tiring and time consuming but the joy derived from it made it worthwhile. He was particularly pleased to be given the opportunity to perform before the Apostolic Nuncio, Archbishop Joseph Marino, at the Sandakan Diocesan Day Oct 14.
Gibson has been with the then Youth Ministry of St Martin's Church since 2008. He was then an ordinary member. Today he sits in the main committee of the Parish Youth Apostolate (PYA).
He is a choir member and an active member of the Parish Evangelizing Team. He is always with the team in reaching out to the peripheries, those living in the margins, the sick and the lonely elderly people.
According to Gibson, the young people are becoming keener to be involved in church activity. This occasion, the anniversary celebration, was an excellent platform to bring the young people together in preparation of the event. They were in the choir, altar servers, presentations and hall and church arrangement.
However, much effort is needed to reach out to the young people in the outskirts of the town. They need to be accompanied in their faith journey. Together with his team members in the PYA they have strategized approaches, moving forth to reach out to this group of youth.
He shared that the upcoming Sabah Youth Day-4 in Tawau in 2016 would be a great opportunity to bring the youth throughout Sabah together, promoting greater unity and solidarity in building up the Church. He hoped more youth from Telupid would register for SYD-4.
He wished everyone, coming from far and near, 'A Blessed and Happy Anniversary.' – DS/G.Bell