Over 200 attend Liturgy Formation seminar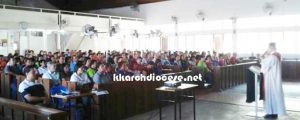 INANAM – St Catherine Liturgical Committee organized a half-day formation seminar at the St Catherine's Church Inanam Oct 18 with a record turnout of 260 participants from Good Shepherd Menggatal and St Catherine Inanam.
This formation seminar is organized on a yearly basis for those parishioners who are involved in the Liturgical Ministry such as catechists, communion ministers, altar boys & girls, lectors, choirs, collectors and in the Hospitality Ministry.
Through this formation seminar, the participants have the opportunity not only to update their knowledge on the 'do's and don'ts' in their respective ministries, but also to renew their commitment to serve in their ministry.
Fr Paul Lo, who touched on 'Theology', has enriched the participants' knowledge on the theological aspects of the ministry. – Michael Guntili