CLOW Tawau organises rosary workshop for childdren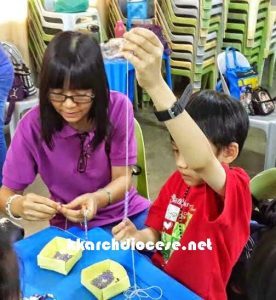 TAWAU – Passing on our faith to the next generation needs commitment and perseverance. Children deserve to receive the fundamentals and the basics of their faith especially through their parents.
The facilitators of the Children's Liturgy of Holy Trinity Parish Tawau organized a one-day Rosary Workshop for children aged 10 years and above on Sep 16, which was attended by 30 students, English Sunday School teachers and parents.
The workshop aimed to help students in deepening their faith about Mother Mary through the knowledge of the Holy Rosary.
Topics covered during the workshop were:
1.  What is the Rosary?
2. How the Rosary began
3.  Apparitions of Mother Mary
4. The promises given to St Dominic to those who recite the Rosary
5. Blessings and benefits of saying the Rosary
6. The different mysteries that tells the life of Jesus
7. How to answer questions on Mary and the Rosary
The session concluded with students making their own rosary, assisted by facilitators, teachers and parents. The activity promoted creativity and the interaction helped develop a closer relationship bond.
The children left the workshop with their handmade rosaries which they were proud of. The organizers hoped that through the workshop students would be encouraged to recite the Holy Rosary and say it with more conviction and pride. – DOSPO, Christine Liew