Priestly ordinations bring a ray of hope
KOTA KINABALU – It was a week of great joy and thanksgiving for the Archdiocese of Kota Kinabalu as two young men were ordained into the priesthood.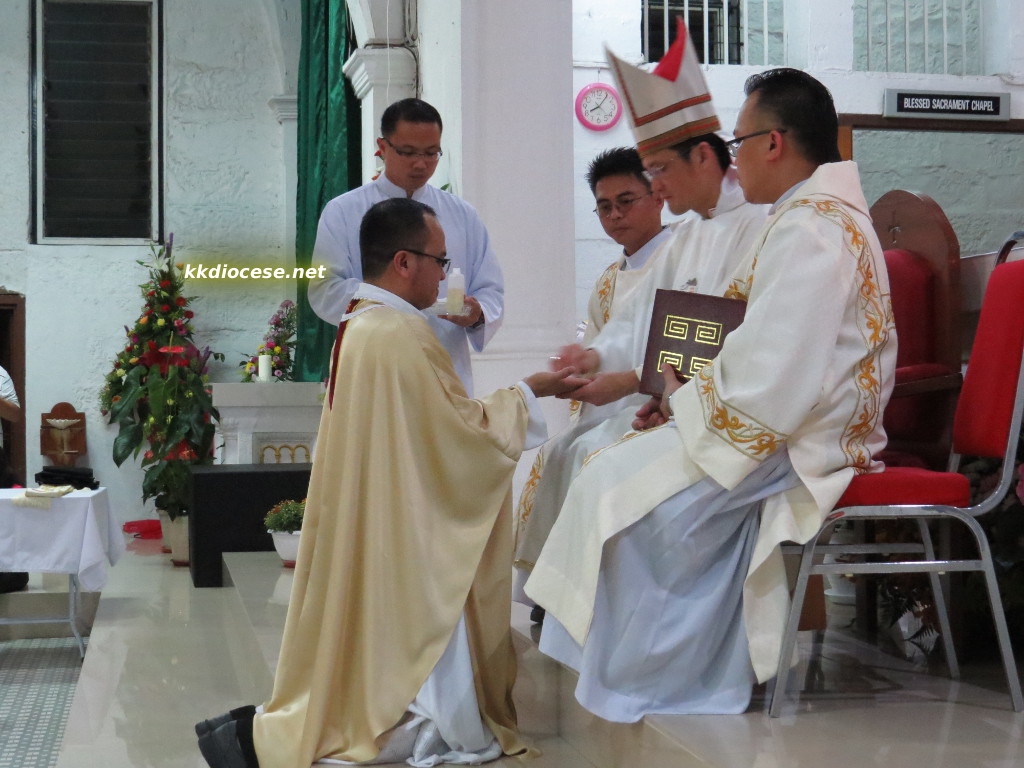 The Sacerdotal ordination of Fr Rhobby Aaron Mojolou took place in his home parish of St Michael's Feb 24, 2014, followed by the ordination of Fr Mitchelly Kiun two days later at his home parish of Sacred Heart Cathedral. This brings the number of priests in the archdiocese to 37. It also marks the first sacerdotal ordination presided by Archbishop John Wong as the ordinary of the archdiocese.
In both his addresses, Archbishop Wong welcomed them into the presbyterate and reminded them of the monumental task ahead. By their ordination, he assured them that they are now ready for the priestly ministry. He encouraged them to strive to become good pastors who are able to relate with the people, wherever they are.
Their individual ways of responding shows the unique way in which they were ready to take up this challenge. Fr Rhobby responded by sharing a conversation he once had with Archbishop Wong. "You once said that a bishop takes a gamble at every ordination, as he does not know what will become of a priest after ordination. I give you my assurance that I will do my best to be obedient to you, to go wherever you send me, with the help of God" he said.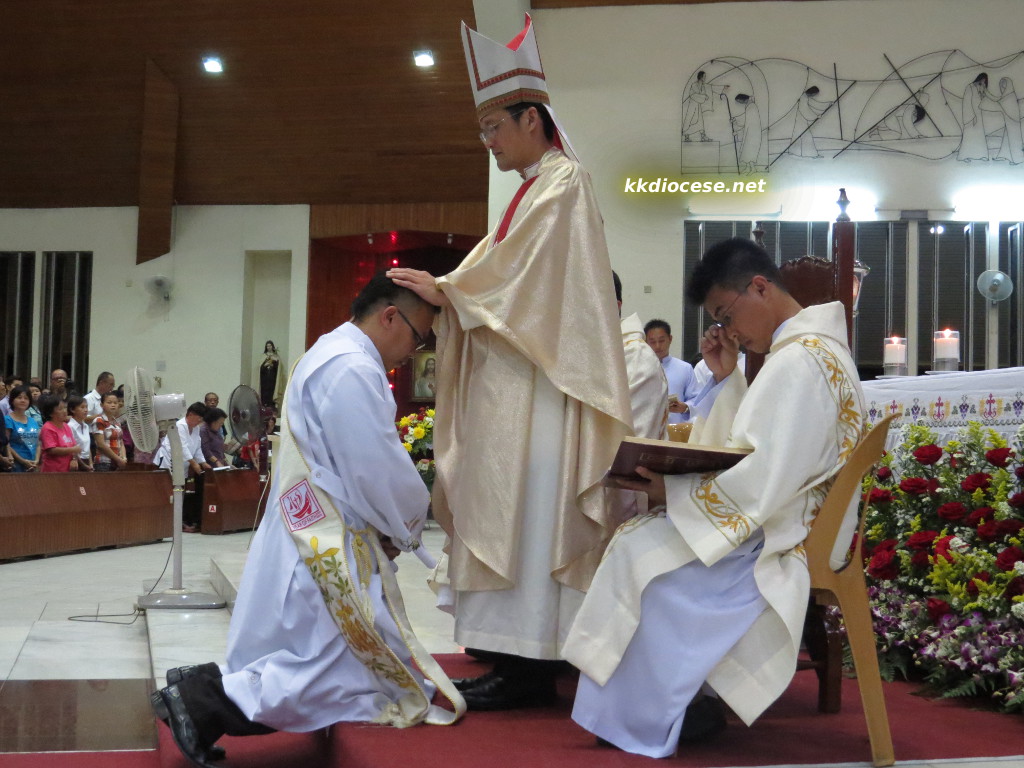 Fr Mitchelly on the other hand took the opportunity to convey his thanks and appreciation in three languages: English, Kadazan, and Hakka, to the delight of everyone. Their unique personalities of responding is a firm assurance of their total dedication in serving the archdiocese as well as being able to relate well with the people.
Although the parish of St Michael's has witnessed many of its boys been ordained to the priesthood in recent years, these ordinations were either done in the sub-parishes or in the Cathedral. With Fr Rhobby Mojolou, he is the first priest to be ordained in St Michael's church after a hiatus of 28 years. The last time St Michael's Church witnessed an ordination was in 1986, when Fr John Mansul was ordained.
In the case of Fr Mitchelly Kiun, it took almost 38 years for someone who hails from the cathedral parish to be ordained a diocesan priest, the last being Fr Cosmas Lee. (Another priest, Fr Joseph Fung SJ, who also hails from the Cathedral Parish, was ordained a Jesuit priest in 1986.)
Fr Rhobby who has been assigned to the Cathedral since finishing his formation in St Peter's College in 2012 up till his deaconate, will continue to serve there as assistant to the parish priest.  Fr Mitchelly will also continue to serve the parish of St Catherine of Siena, Inanam. He has been serving there as deacon since Sep 2013. – CS & other sources