Thought for March: Lent, the shedding of the selfish me, for the greater Agape of He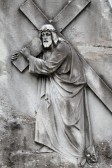 Come Mar 5, we shall enter into Lent with the traditional distribution of ashes on Ash Wednesday.
Lent is a penitential time; a solemn season in which we participate in the salvific actions of our Lord through Liturgical celebrations (Mass), and personal sacrifices in abstinence, fasting, prayer, confession and spiritual and corporal works of mercy. In a sense, through the Wisdom and guidance of the Church, we are called to die with Christ in order that we may (more fully) participate in His Resurrection, and His fullness of Life, on Easter Sunday. In effect, we are given an abundance of grace to live out our baptismal calling in a most efficacious manner.
Lent, moreover, is a time for conversion, or Metanoia, which refers to repentance. It is the season of preparation, a 40 day process of conversion where we, with the ever-more-powerful aid of grace, effect 'a turning from in order to turn towards' in reference to leaving sin and embracing God.
But most importantly, Lent is much more than external acts, for it is a blessed time of permanent internal change of heart. As St James pointed out, living faith reveals itself in acts of selfless love. Agape is the biblical description of such a love. Agape is the Love of the Cross. Lent is the season in which 'the concrete daily effort of a person, supported by God's grace to lose his or her own life for Christ' is 'the only means of gaining it (Mt 16:24-26, Mk 8:34-36, Lk 9:23-25), an effort to put off the old man (sin) and put on the new (Christ).'
May the Virgin Mary — who, after having shared the sorrowful passion of her divine Son, experienced the joy of resurrection — accompany us during this Lent to the mystery of Easter, supreme revelation of the Love of God.
A good Lent to all!