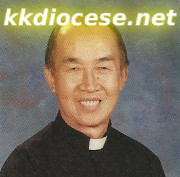 KOTA KINABALU(CS/Fr Robert O'Neil mhm).- Fr Peter Ma, a Chinese national, was born in the village of Hoi Yin Toi Shaa, Kwong Tung, China in 1925.
His parents and grandparents were Catholics. His father was Joseph Wah Chun Ma and his mother, Mary Lui Aah Ying.
He has four brothers and two sisters. One older brother, Thomas, was a priest and was imprisoned for 15 years by the communists and only died six months ago at the age of 91. One sister, Ma Shi Him, still lives in China.
After completing his seminary training in 1954 in the Aberdeen Regional seminary, Hong Kong, and on being told that there was no place for him, he was advised to find a bishop in South East Asia who could accommodate him.
He arrived in North Borneo Apr 13, 1955 and was ordained by Bishop James Buis, a Mill Hill Missionary Apr 17, 1955, which happened to be the first priestly ordination in North Borneo under the British rule.
He was assigned to the Sacred Heart parish for a few years and finally to Stella Maris parish, Tanjung Aru in 1980.
On the 25th anniversary of his priestly ordination, he sought for permission to make a trip to America.
On coming back, he decided he wanted to go back to New York and so began to seek for permission for release and to be incardinated to the Archdiocese of New York.
Permission was granted by the then Bishop Simon Fung, and in 1981, he arrived at Transfiguration where he served for 10 years and subsequently to St Mary's where he served till he was called home to the Lord Nov 12, 2013.