IY And CAC Close Academic Year 2013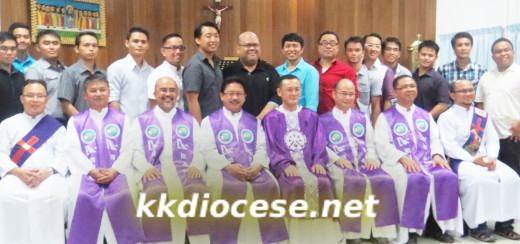 KOTA KINABALU –  Arthur John, IY seminarian, writes on the closing of the academic year for archdiocesan formands:
Dec 11, 2014 marks the closing of our academic calendar year 2013 for the CAC Aspirants and the IY Seminarians.
It is by God's Grace that we are able to complete our formation for the year. It seems like it was only yesterday that we began our journey in the CAC and IY Formation Houses. The period seems short but it is made up of many moments that filled our journey.
In this journey, the seed of vocation that God first planted in every candidate is being nurtured by the various dynamics of formation in the Formation Houses.
It is also a time for discernment which cultivates the growth of the calling. Each candidate's sincerity in the formation provides the key in the development of bearing good fruit. In order to be effective in both the spiritual and human aspect of the formation, he must be open to God and to the formation.
In Initiation Year, emphasis is on the spiritual formation as an important element in priestly formation. The core of this formation is to develop a good relationship with God in Christ through growing in personal and communal prayer, entering fully into the sacramental life of the Church, learning to take God seriously and putting God at the centre of our life.
The subjects taught in Initiation Year are: systematic Study of The Catechism of the Catholic Church, Psycho-spirituality, Human Sexuality, Priesthood, Salvation History, The Gospel of Mark, Prayer Life, Catechetics, English, Sign Language, Mandarin and Music.
There are 4 main areas of development in preparation for the priesthood: Personal Growth – life changing character and growing in balance, Spiritual Growth – developing relationship with the Lord, Intellectual Growth – growing in knowledge, and Community Growth – growing to love humanity and one another. 
At the Thanksgiving Mass at SPCIY on 11 Dec 2014 which was presided over by Archbishop John Wong, the prelate recalled that the year has been fruitful and expressed gratitude to God for His immense Love and for the many blessings which the seminarians and aspirants have received from the guidance of their formators, lecturers and teachers.
He exhorted them to spend their holiday break well, and not to leave their spiritual life behind so as to better prepare for the new year ahead of them.
At the celebration of the closing of the year fellowship meal, his parting words of wisdom to them were that God is capable of blessing each individual, either in continuing their studies in the priesthood or in their leaving.
Together with the Directors of both Formation Houses, Fr Michael and Fr Wilfred, the Archbishop articulated gratefulness to the spiritual directors, formators, lecturers, teachers, volunteers and benefactors for journeying and supporting in this very important but almost impossible task of forming priests out of young men, had it not been for God's Grace.