Church Of Mary Immaculate celebrates 21st anniversary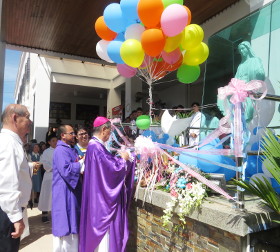 KOTA KINABALU – Church of Mary Immaculate, Bukit Padang (CMI) celebrates its 21st anniversary on Sunday, Dec 8, 2013 which is the Second Sunday of Advent. Every year CMI would celebrate its feast day on the Solemnity of the Immaculate Conception of Mary on Dec 8, but as it coincides with the Second Sunday of Advent this year, CMI celebrated the feast day event on a smaller scale.
A well-attended triduum conducted by Sister Maggie, with exposition of the Blessed Sacrament, was held at the chapel prior to the Sunday celebration. The blessing of the newly completed Marian Shrine by Archbishop Emeritus John Lee added a special touch to the celebration.
The Eucharistic Celebration, which was presided over by Archbishop Emeritus John Lee and concelebrated by Korean priest, Fr Bonifacio and assisted by Deacon Rhobby Mojolou, was preceded by a solemn procession of the faithful within the church compound.
Before the conclusion of the Mass, the newly-completed Marian Shrine, which was installed at the entrance of the church, was blessed by Archbishop Emeritus. The statue was donated by the Korean community.
Mass over, more than two hundred parishioners adjourned to the canteen for a fellowhip brunch.
After the meal, prizes were presented to the winners of the first CMI Chinese chess competition, held a week earlier. The event was organized by members of the Boys Brigade.