60 Asian youth leaders join Korea Pilgrimage Week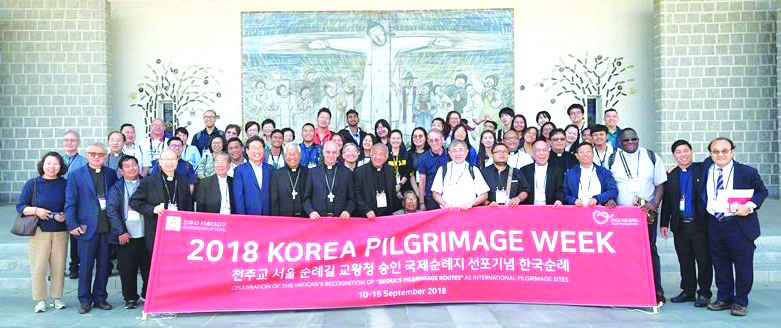 SEOUL – Once again, Seoul Archdiocese has organized the Korea Pilgrimage Week, Sep 10-15, 2018 in Seoul. The Korean Martyrs Exaltation Committee under the archdiocese invited the Asian Catholic youth and youth ministers to jointly celebrate the auspicious week.
Thirty Asian Catholic leaders from 13 countries and 30 youths from nine Asian countries responded to the invitation.
The annual program is held as a memorial to the Catholic martyrs who surrendered themselves and their lives to spread the love of Jesus Christ to others.
The pilgrimage was held with the objective to unite Catholic youth leaders from various Asian countries.
Throughout the pilgrimage, we visited several historical places. Each shrine possesses its own unique story in terms of the means of persecution, but for the same purpose i.e. defending their faith in Jesus Christ.
Korea is one of the countries which has many martyrs. In this year's pilgrimage program, Vatican has made these pilgrimage places as official international pilgrimage sites.
The Holy Mass was celebrated at Seosomun Martyrs' Shrine, a site of capital punishment for Catholic believers in the past.
Archbishop Rini Fisichella, president of the Pontifical Council for the Promotion of the New Evangelization from Vatican has officially announced the Korea Pilgrimage route as an international pilgrimage destination and the scroll was handed over to Cardinal Yeom Soo-jung, Archbishop of Seoul.
"I am grateful for the opportunity to visit the shrines during this prilgrimage. I am also amazed by the local parishioners in this archdiocese for their astounding efforts in building this pilgrimage route to remember  the sacrifices of the martyrs and to inspire many.
"After the official announcement by the Vatican, I strongly suggest the faithful to take the opportunity to visit these places as there are too many martyrs' stories that could not all be possibly published here.
"Historical stories of the martyrs made me reflect the extent of my willingness to defend my faith in Jesus Christ. Am I courageous enough and am I willing to be a martyr in this challenging world?
"I would like to invite you to reflect the same, how willing are you to defend your faith in Jesus Christ?" – Kelly Celestine, KK Archdiocese youth leader