Pope Francis at Mass: Consecrated Life renewed in encounter with Jesus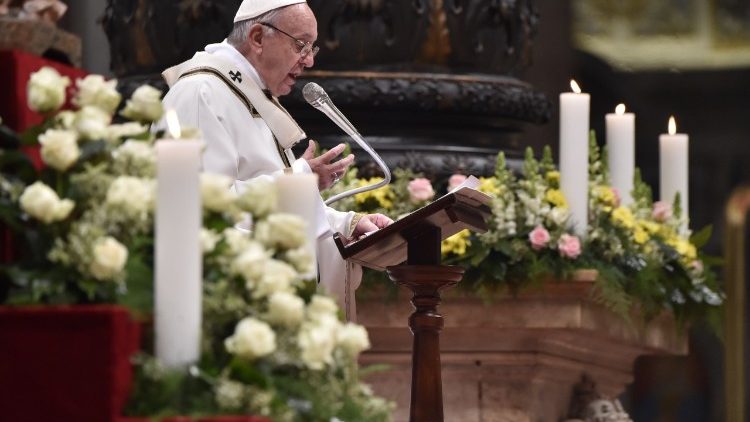 VATICAN CITY – Pope Francis told the men and women gathered in St Peter's Basilica for Mass on Friday evening, 2 Feb 2018,  that consecrated life "is born and reborn of an encounter with Jesus as he is: poor, chaste, and obedient."
The Feast of the Presentation of the Lord also marked the 22nd World Day for Consecrated Life.
Young and old
In his homily, Pope Francis reflected on Jesus' presentation in the Temple and the Gospel encounter between two couples: the young Mary and Joseph, and the elderly Simeon and Anna.
"The old receive from the young, while the young draw upon the old," he said. "In the Temple, Mary and Joseph find the roots of their people." He said they also find the "roots of their faith", which he said is "the art of living with God, learned from the experience of those who have gone before us."
The Pope said this fruitful exchange between young and old is possible because it is centrerd on Jesus.
Encounter with Jesus
He said this is true also of the lives of consecrated men and women. "Everything started in an encounter with the Lord," he said. "Our journey of consecration was born of an encounter and a call."
However, the Holy Father reminded, "we can never renew our encounter with the Lord without others." He said Jesus must be at the centre of our lives and that the young must learn from the more experienced members of a community.
"For if the young are called to open new doors, the elderly hold the keys. An institute remains youthful by going back to its roots, by listening to its older members. There is no future without this encounter between the old and the young. There is no growth without roots and no flowering without new buds. There is never prophecy without memory, or memory without prophecy."
Brothers and sisters over screens and projects
Pope Francis warned against looking "at the screen of a cellphone more than the eyes of our brothers and sisters". He said that when projects, methods, and organisation are given top priority "consecrated life stops being attractive".
He said consecrated life "frees our affections of every possession in order fully to love God and other people." Like Simeon, the Pope said, it helps us to hold the Lord in our arms and keep him in mind in all that we do.
"Having the Lord "in our hands" is an antidote to insular mysticism and frenetic activism, since a genuine encounter with Jesus corrects both saccharine piety and frazzled hyperactivity."
The secret to a vibrant spiritual life, said Pope Francis, is "a willingness to allow ourselves to encounter Jesus and to be encountered by him."
"If we encounter Jesus and our brothers and sisters in the everyday events of our life, our hearts will no longer be set on the past or the future, but will experience the "today of God" in peace with everyone." – Devin Watkins, Vatican News