Churches show force in biggest rally under Duterte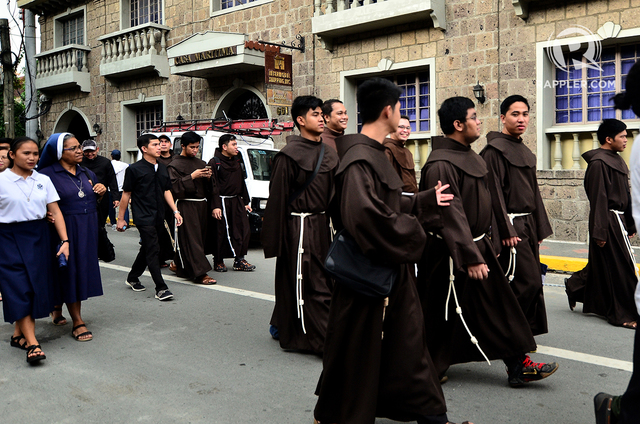 MANILA, Philippines – While professing different religious beliefs, thousands of members of various churches raised their fists and echoed a cry against tyranny during the biggest rally under Rodrigo Duterte's presidency.
Members of Christian churches marched to Rizal Park on Thursday, 21 Sept 2017, to denounce the killings in Duterte's war on drugs and to reject nationwide martial law, which dictator Ferdinand Marcos declared exactly 45 years ago.
 It was a show of force as church members – from Catholics to Aglipayans to Born Again Christians – believe that the killings in the war on drugs contradict the commandments of God.
"Nais naming itaas ang aming boses, ang aming kamao (We want to raise our voices, our fists)," Aglipayan priest Rev Jonash Joyohoy said in an interview with the National Council of Churches in the Philippines (NCCP).
The NCCP is a huge 54-year-old group of Christian churches, which has been vocal against the killings in Duterte's anti-drug campaign.
In another interview with NCCP, Reverend Junwel Bueno of the United Church of Christ in the Philippines said in a mix of English and Filipino, "Never again to martial law! And tyranny has no more space in our country today. Amen!"
A member of the Christian Youth Fellowship, Zarah Alegre, also told the NCCP, "We are here in Luneta because we know that God wants to protect life and to safeguard the dignity of people."
Catholics also came in droves on Thursday.
During a 20-minute march from San Agustin Church in Intramuros to Rizal Park, Catholic laypersons, priests, and sisters prayed the rosary while carrying placards and singing church songs like "Pananagutan (Resonsibility)"

One of the Catholic Sisters who marched to Rizal Park was Sister Joanne Cabugawan, member of the Congregation of the Sisters of St John the Baptist. Cabugawan said she came to the rally with around 15 members of their religious group.
In an interview with Rappler while marching to Rizal Park, Cabugawan said her group was opposing the killings and rejecting martial law.
Sister Imani Kosasih, who hails from England and belongs to the Holy Family Sisters, also joined the march from San Agustin Church to Rizal Park.
"I'd like President Duterte to know that really, what he's doing may not be the best way, that every life is precious and that he can find a better way to deal with the drug problem here in the country," Kosasih said.
"I do understand what he's trying to do – eradicating drugs – but killing people, killing the drug addicts, is not the way forward, because it has been tried in Mexico and Colombia, and it hasn't really brought the results expected," she added.
Organisers pegged the number of Rizal Park protesters, including the religious sector, at around 30,000, but police claimed they only reached a peak of 8,000.
At San Agustin Church, some ministers even ran out of consecrated hosts, as they apparently did not anticipate the number of Catholics who joined a Mass prior to the march to Rizal Park.
The 17th-century church thundered with the voice of Caloocan Bishop Pablo Virgilio David, the Catholic leader of what he describes as a "killing field" in the anti-drug campaign.
David in his homily denounced the "termites" that eat up "our collective conscience as a nation."
During communion, the choir sang a song familiar to protesters in 2001 when another popular uprising ousted president Joseph Estrada – "Lord, Heal Our Land," one of the anthems of the so-called Edsa Dos or the people power movement that ousted Estrada from Malacañang.
Some 200 kilometers from San Agustin Church, Lingayen-Dagupan Archbishop Socrates Villegas spoke out in time for Thursday's protests as well. In a homily at the Cathedral of St John the Evangelist in Dagupan City on Thursday, Villegas warned that the Philippines is losing its soul to "the Father of Lies and Prince of Darkness."
Former St Scholastica's College president Sister Mary John Mananzan, a veteran of street protests, said she felt "euphoric" that many Filipinos have found the courage to speak out against the government's abuses.
"That makes us happy, that fills our heart, because they're no longer quiet," Mananzan said. – Rappler.com