Pauline Sister Shirley Chong shares her vocation story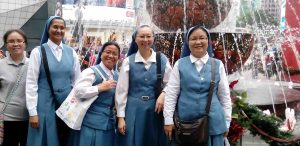 I was born into a family that is not rich.  My parents grew up during the time of WWII. They suffered losses due to the war.  My dad was orphaned by the Japanese occupation as young as six.  My mom, being the eldest, had to stop school to earn for her family of eight.  After their marriage, they vowed to prepare their children well to survive in the world. They worked hard, saved up their salaries and invested them for our education.  Thanks to my parents' sacrifices, all of us children grew up and had a good start in life.
And so, my start was one that was full of aspirations – for a life that is successful, happy and fulfilled.  But more and more, as I ventured deeper into the world, I experienced conflict of values.  Eventually,  I saw and understood what the world is, and that what it offers to her children is nothing truly good in the real sense of the word, and nothing that is truly lasting, no matter how attractive and promising.  Happiness, even when it is real and good, does not last but eventually passes.   Promises of wealth and success eventually turn into futility and emptiness.  It is no wonder that people lose hope, to the point of giving up living altogether.  They suffer depression, stop loving themselves; some commit suicide, others hurt themselves and their neighbours.
More and more, I found this life distasteful.  I longed for a life that is different, one that has much more to offer, especially the value of eternity.  This would be a life that is really worth living.  And I found it in the person of Jesus, whom I discovered to be the God-man.  His immense love led Him to die a heroic death on the cross, for my sake.  And this is precisely to gain me this life that I was looking for.  In this discovery and realization, I was moved to love Him in return.
This love is to be radical. To love Jesus is to love God.  And God holds dear everything that the world does not.  Thus it calls for a radical renunciation of all that is "of the world", a departure from worldliness altogether.  It is a clear choice of "either-or", not "both-and", between Jesus and the world that I was to make.  But it was not difficult at all, for God has already prepared my heart for Him.
The radical renunciation was fortified by a radical embrace of the three vows – Chastity, Poverty and Obedience.  They are "weapons" that contradict worldliness, and they bind me close to God.   I became a sign of contradiction in the world, just as Jesus was in His earthly life.  Jesus' lifestyle became mine too.   This is indeed the beauty of consecrated life — that Jesus and I share the same life; I am completely His, and He is totally mine.
What gives me the deepest joy in living my religious consecrated life is that I know and am certain that I live and do nothing else but God's work, with His blessings daily, without counting the cost, and earn the reward of heaven. This is indeed the best "job" with the best "pay" which the world could never offer.   And the boss whom I serve is neither the top corporate heads nor the top-ranking government officials, who use the skills of their workers to carry out their agendas that are, more often than not, self-serving.
Rather, my boss is God the Creator of heaven and earth, and is its Master, almighty and eternal, compassionate and merciful, whose agendas will always be for the best interest of the His entire creation.  It is great FREEDOM to know that it will never be a mistake for being part of God's Enterprise, for the fruit of my service will last for eternity.  That is the fulfillment I sought.  With full assurance, therefore, I invest, not only my full time in hours, but the whole of myself – my mind, my will and my heart, "sharpened" and purified through the vows of chastity, poverty and obedience, in this Enterprise.