200 turn up for Holy Trinity Madsiang-Inobong's inaugural Mass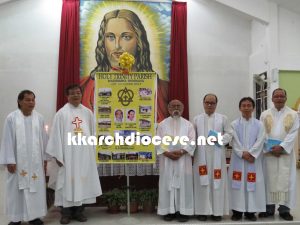 INOBONG  – Two hundred faithful turned up for the inaugural Mass of Holy Trinity Madsiang-Inobong on 1 Oct 2014 at Sacred Heart Inobong.
The Mass was presided by Msgr Primus Jouil and concelebrated by Fr Alex Sipanul, the parish's first priest, and concelebrated by Fr Jimsy Julius, assistant priest, Fr Michael Modoit, Fr Rayner Bisius and Fr Florian Dompok.

In his homily, Msgr Primus underscored that the establishment of the new parish has been long awaited for by the communities and was now a dream come true. He called upon all parishioners to stay united and to work together towards advancing in service in this new parish. He also reminded the parishioners that even before the new parish establishment, God has already graced them with 2 priests hailed from Inobong, Fr Thomas Makajil and Fr Florian Dompok , and these are visible signs of God's blessings for the people.
Following the Mass, a ceremony was held to officiate the launching of the new parish. A  streamer was scrolled down by Msgr Primus and Fr Alex Sipanul, revealing the name of the new parish "Holy Trinity Parish, Madsiang-Inobong" and all churches under its territory. Subsequently each representative of the churches under the parish of Holy Trinity stepped forward to receive a commemorative plaque.
When contacted by Catholic Sabah, Fr Alex Sipanul declared that the establishment of the new parish, which is carved out of the existing Penampang parish of St Michael, is a new blessing from God.  "Part of St Michael's are now grouped to form the new parish and we continue to journey in the vision of the Archdiocese, aspiring to worship God and build His kingdom together with other parishes." said Sipanul. – Linda Edward