KK Archdiocese blessed with fourth priest's ordination
RANAU (CS) – The Archdiocese of Kota Kinabalu is truly blessed as the local Church celebrated the 4th sacerdotal ordination for this year with the ordination of Deacon Jack Johimi Sigam to the priesthood at St Peter Claver Ranau on 28 Jun 2014.
Archbishop John Wong, the ordaining bishop, concelebrating with fellow presbyters from the archdiocese, ministered the ordination ceremony in front of a fully packed church.  Filling up the church were the faithful from the parishes of Ranau district, friends and well wishers who came from far and near to witness the joyous celebration. With Fr Bruno Yasun, Fr Jalius Sading, Fr Wilfred Atin and Fr Postinus Kurup as his compatriots, Jack was the fifth priest to be ordained from the parish of St Peter Claver Ranau.
In his welcoming speech, Fr Bruno Yasun as rector of the parish shared his utmost happiness for being blessed as the first priest to be ordained in St Peter Claver.  Though he was originally from the parish of St Pius X Bundu Tuhan, he was happy that his choice of choosing St Peter Claver Ranau as his place for ordination bore fruit as there were three other brave young men who responded to God's call from the parish. Promoting vocation was why he chose St Peter Claver. He hoped that more young men and women would respond to God's call.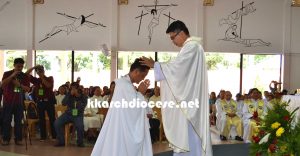 In his turn, Archbishop John Wong stressed that the joy of the celebration was for all, especially for those from St Peter Claver Ranau as one more local lad dared to respond to God's call. Welcoming the newly ordained into the presbyterium, he congratulated Jack for offering himself to serve God. Now that having been ordained, he would serve as a priest, prophet, and king. He reminded the newly ordained that priesthood is a service, not a status. He hoped to see him serve those under his care with love and humility. He believed that by the leading and guidance of the Holy Spirit, he would be a priest after the heart of God. He also congratulated all those, especially his family and friends, who have helped Fr Jack up to his ordination, and reminded them to continue to pray for him.
Newly ordained Fr Jack Johimi Sigam, in responding, thanked God for having chosen him and guided him to the day of his ordination. Grateful to Archbishop John Wong who has journeyed with him since his aspirancy, as well as to Archbishop Emeritus John Lee, though he was unable to attend his ordination, their guidance was crucial in his formative years. To all who have helped him directly and indirectly, especially his family members and relatives, he expressed his utmost gratitude.
Born in 1981 in Papar, the neo-ordained was the first child of a brood of six boys born to Mary Joan Remigius and Johimi Sigam.  He was baptized at St Joseph Papar and confirmed at St Peter Claver Ranau, of which the significance of both events deepened his gratefulness for having been born into a Catholic family and for his parents in taking their Catholic responsibility seriously.
In addition to that, he attributed his closeness to the Church and active involvement as an altar server to his mother's shining example of giving faithful service to the Church as a Sunday School facilitator (even until the present time).
Though he nursed an ambition to be a police officer and to the marriage vocation, God has other plans for him.  Beginning 2000, the Lord pursued him with his first introduction to the priestly vocation through a vocation roadshow which recalled a long-forgotten encounter with a nun and her simple question "Do you want to be a priest?" at the age of 9, and brought about further stirrings to his heart.
With his parents' blessing he finally entered aspirancy year in 2004. Once he made the decision to enter seminary, he was not spared from the many trials and temptations, which were necessary to mold him and to prepare him for the priestly calling, and to deepen his appreciation of God's sacrificial love for him.
Although he has completed his formation and is now ordained a priest, he is fully aware that his molding and shaping continues.  He is grateful to God for giving him the courage and strength to answer His call.
Fr Jack would continue to serve St John, Tuaran.  He has been serving there as deacon since Sep 2013. – Fr Rhobby Mojolou/CS